By DANA SMITH
Tribune Staff Reporter
dsmith@tribunemedia.net
A MOTHER is accusing a local kindergarten of neglect. She claims that while under their care, her three-year-old son managed to leave the premises, alone and unnoticed, before being found more than an hour later in a nearby grocery store.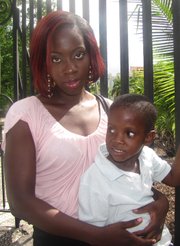 Naomie Tanelus, 24, also alleges Centreville's See-Saw Christian Academy told her child's father – who was scheduled to pick him up — that three-year-old Terrance was missing because his mother had already collected him.
It was last week Tuesday, she said, that the entire episode took place.
"I go to school full time so the arrangement is I take him to school in the morning and every afternoon his father picks him up," she said. "This particular day, his father went to pick him up and when he got there he was told the child's mother had already picked him up from school, which was a big query for him."
Terrance's father – Terrance Bastian Sr – tried to contact her by phone, but couldn't get through, Ms Tanelus continued.
"By the time I got the voice-mail, a lot of time had passed, already," she said.
It was in a panic that she called him back, she said, explaining that she had not collected Terrance.
"I froze. I had to replay what he said to myself in my mind. Like – how is that even possible? I had a lot of emotions running through me at that time. I didn't know what to do," she said.
After explaining that she did not have Terrance, she said, Mr Bastian quickly went back to the school.
"He explained to them that nobody had the child and they had to find out what's going on and where he is. And they're telling him that I picked him up. They started to have attitude towards him because I guess he was making a scene – obviously because his child's missing and no one had an answer to tell him where he is," Ms Tanelus said.
"While they were there, discussing the situation – trying to find out what happened, some time had passed. It was after 5pm now and a student from one of the local high schools walked in the school building with my child.
"The student had no idea what was going on. He just brought him because he had on the school uniform and said this child was in Centreville Food Store for a long time just wandering around and through the aisles. He said people outside the store saw him running on the street through traffic and when he got bored he went in the food store."
With Terrance returned, Ms Tanelus said, his "angry" father took him and left.
"I was already in a panic so I had left school and was headed there. By the time I got there, my child had already left with his dad," Ms Tanelus said.
She told an on-duty teacher that she wanted to speak with the principal, but the principal "had no idea what took place."
However, the principal – Mrs Zerlene Fraser – appeared apologetic and angry at the teachers for what happened and agreed to give her a $280 cheque to reimburse her school fees, Ms Tanelus said.
But although she was refunded, she said she was upset that the incident could occur.
"They didn't have remorse or sympathise with the situation of my child being missing. And they lied and told his father that I picked him up. If he didn't check with me, no one would have known what had happened," she said.
"You can expect human error – like a child slips away or something. But when it happens, there should be a time frame where you notice a child is missing. The way you approach parents and tell them this is what happened – just be accountable.
"Every hour of the day when I pass that street, it's very busy. He could of gotten hit by a car or gotten abducted from somebody. No one was paying attention. I don't understand how it occurred."
Based on her conversation with the staff, Ms Tanelus believes Terrance could have been missing for nearly two hours.
When reached for comment, the school's principal, Mrs Fraser admitted the incident did "unfortunately" occur and stated: "I have to be strong and face up to it."
Noting the school term had just started, she said: "It takes a while to get familiar with new students."
Mrs Fraser explained that Terrance possibly slipped away while the afternoon teachers were transferring the students to the evening teachers and everyone was "settling down."
"More than one class was moving," she said. "I would think that was the opportunity for him to come out...At that particular time with the smaller children all coming up at the same time. He probably slipped out in the time of traffic when everybody is moving."
As for the alleged actions of the staff, Mrs Fraser admitted: "I would have handled it better."
She also admitted that the teachers did not immediately bring the matter to her attention when Mr Bastian arrived. She found out upon the arrival of Ms Tanelus.
"When I'm leaving is when they brought it to my attention," she said. "But it went very well – the way I explained it to her is that it is possible that this could happen in a new school year. This was only a few days after we had opened. That does not give the person whose care (the child) was in, an excuse. But it could happen – things happen."
She added that a child has never wandered outside of the school in the 25 years that See-Saw Academy has been open. A meeting to discuss the matter was held, she said.
"I told them (the teachers) they have to take their job description much more seriously because people entrust their children to them," Mrs Fraser said. "We hire them and we entrust children in their care and they have to take full, more serious responsibility for their actions."
She added that the teacher responsible has been suspended.