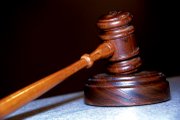 A SUPREME Court judge reinstated the bail of three men who failed to appear on Monday for the start of their attempted murder trial after he accepted their reasons for not being present.
Justice Bernard Turner accepted the apologies of Andrew Burrows and Gavanthro Knowles while accepting proof that Geraiceo Brown was in police custody at the time.
Warrants of arrest were issued on Monday for Burrows, Knowles, and Brown, who are each facing two counts of attempted murder and a single count of possession of firearm with intent to endanger life.
It is claimed that on September 8, 2010, the three men tried to murder Geovanni Joseph and Jeffrey Anestin.
It is further alleged they tried to endanger Anestin's life with a firearm.
The case, being prosecuted by Eucal Bonaby, was expected to get underway Monday morning.
However, none of the defendants were present in court.
Justice Turner asked defence attorneys Terrel Butler, Calvin Seymour and Michael Hanna about the whereabouts of the accused men.
But as the lawyers could not explain the absence of their clients or track them down, the arrest warrants were issued.
Justice Turner ordered that the suretors of the three men be brought to court on October 5 to explain why the accused did not show up.
On Tuesday, Knowles and Burrows, along with Ms Butler appeared before Justice Turner.
Both men said they were mistaken about the trial date.
The judge explained to them the gravity of not appearing for their trial and said valuable time had been wasted.
He ordered that they be taken to custody and deferred his decision on whether or not he will revoke their bail.
Yesterday, Knowles and Burrows apologised to the court for the mishap.
With respect to Brown, Ms Butler stood in for his attorney Ian Cargil, who was not properly dressed for court having just been hired.
She told the judge Brown's absence on Monday was not deliberate as he was in custody at the Nassau Street Police Station in connection with another matter.
Justice Turner accepted this and the apologies of the co-defendants, reinstating their bonds.
However, he said their suretors would still have to come to court on October 5 to explain why the accused did not show up.