By DANA SMITH
Tribune Staff Reporter
dsmith@tribunemedia.net
MORE than 2,000 visitors are expected to arrive in the Bahamas next month for a major gospel concert event that will kick-start a busy month for the country's tourism industry.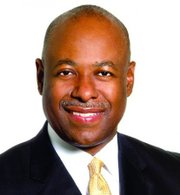 The Radio One Love Getaway will run from May 2 to 5 and Minister of Tourism Obie Wilchombe said the country is "very serious" about attracting the religious tourism market and the African-American market.
The economy should "benefit significantly" from the up-coming event and the thousands of visitors it will draw, he said, also noting that the concert comes ahead of a major professional golf tournament and a football match – both of which are set to take place in May as well.
Bishop Neil Ellis, who helped to organise the event, said hotels are already reporting high occupancy levels for that time period and some 2,200 persons are expected to attend 15 different concerts and various seminars.
Mr Wilchcombe said: "Our country has high dependence on tourism. But more so we have been able to generate relationships with the religious tourism market and the African-American market - all important as we seek to generate the synergies that will cause our country to continue to grow.
"This announcement today is significant, it will be the first of its kind that we ever staged in the Bahamas, it's going to be one of those major events that no one will soon forget. We believe that it will open doors and cause for greater growth in the industry."
The hosting of the event is all apart of "rebuilding" the tourism industry and the country's branding, the minister explained.
"We're trying to build these relationships to ensure that we can continue to grow the tourism industry because the past has been up-and-down," he said. "We want to have a sustainable approach to tourism growth and that is from January to January – we don't want any breaks in it."
Room-night bookings are expected to be "very, very high" during that time and the country will also benefit from "the spill-over effect," he said.
Mr Wilcombe explained: "You have people who will come who are not a part of this group but because of the advertisement, they will come to the Bahamas to attend one of the events. So they'll be at the other hotels and of course Bahamians will come from all over the country as well. So there will be a tremendous amount of activity taking place."
The minister added: "I think you all would see that May is going to be an incredible month here in the Bahamas, particularly here in the capital, because we begin with the One Love getaway and that will be followed by the Pure Silk ladies golf tournament – that will be the first time ever a professional golf tournament will be held in the Bahamas and here on Paradise Island – and of course later in the month we'll be seeing the Tottenham Hotspur, they will come to play the Reggae Boys in a soccer match; football, if you like. The truth is, it's going to be big in the capital city in May, we look forward to it, we think it's going to be an outstanding period."
Radio One's Saunadra Higgs, special assistant to founder and chairperson Cathy Hughes, said tickets to attend all the concert event will cost $299 but tickets for individual concerts and events will become available later.
Performers include: Yolanda Adams, Mary Mary, Fred Hammond and United Tenors, Tye Tribbett, James Fortune, VaShawn Mitchell, Shirley Caesar, Mighty Clouds of Joy, Rance Allen Group, Zacadi Cortez, Damon Little, William McDowell, Micah Stampley, Isaac Carree, Kurt Carr, Tamela Mann, Israel Houghton, Jessica Ready, Pastor Charles Jenkins, Lecrae, Jonathan McReynolds, Andy Mineo, Ramona Estell, Bone Hampton, Tasha Smith, Canron Hones, and Jackiem Joyner.