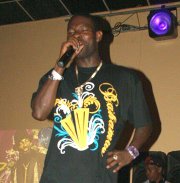 By LESH
Tribune Features Reporter
acadet@tribunemedia.net
IT IS said that pain and suffering can lead to creativity. Never was this more the case for DJ Chronic than two years ago, when tragedy in his life spurred him to come back stronger and better.
The well known deejay, who delved into the performance side of the music business with hit songs "Gal Wine" and "I'm From The Bahamas", said only by the grace of God is he making it today.
Chronic's 14 year old sister was tragically murdered in a shooting incident in March 2011. His brother was murdered shortly after in another tragic incident.
DJ Chronic told In Ya Ear: "I'm a human like everyone else. When the tragedy happened with my sister first, it really hurt me because she was my only sister. I don't have any other sisters and I was a role model to her. Little girls would have celebrities as their role models, but I was the biggest thing to her. That is what had me going to reach these goals."
"When my song "Gal Wine" came out, (my brother that died) played that in his car for almost a month and a half straight. God helped me get through this situation and I wouldn't have made it without him. It was God, and I had to do some soul searching. I could of chosen a road that would have landed me in jail, but that would have made no sense. I looked at all I worked for, and I realised that I am not only a deejay and an entertainer, I'm a role model. People would always tell me that and before this situation, I never understood what they meant by that," said DJ Chronic.
DJ Chronic said the success of his
"Gal Wine" song began with Dion Da Butcha, one of his mentors.
"It was a track that was never written down before it came out. I got a call from Butcha and he told me he had Padrino and Daddi Whites in the studio. I went there and I saw them doing a track, and I asked them to hear it. I listened to it for a good 30 seconds and told them I could do something with it. So they told me to go in the booth and I just went in there," said DJ Chronic.
"If you listen to the introduction to the song, you will realise I had nothing to say. I had to make it sound like I was an emcee introducing DJ Chronic. But when the riddim started, I closed my eyes and envisioned me as a deejay. When playing music, deejays look at the girls in the club. And what do girls do when they are in the club; they dance. And they are dressed in the pencil leg jeans and sticky mouth shoes. That is where I got some of my ideas for the lyrics."
DJ Chronic said he put everything he had into the song, and for some reason people understood it, which led to them supporting it. "It was never a planned session, but it worked," he said.
His most recent song, "I'm From The Bahamas," is making great waves on radio stations throughout the Bahamas. The song produced by Bahamian musician and producer Irate, under the Stand Tall Riddim, was made for the Bahamas, he said.
"My goal right now as an artist is to show Bahamians that I have something to prove. I want to show them that we have good artists and music right here in the country. When these artists write these songs, they don't write it saying its going to be a hit, they just hope it turns out to be. It is the people that make a song a hit. When they rate your music, it's a good thing," said DJ Chronic.
He said he can never see himself giving up deejaying, but he enjoys being an artists as well. "I might not be doing a lot of shows in Nassau right now, but almost every week, I am travelling to different islands to do shows. I use my time in Nassau to do my studio time and recording," he said.
"To be honest, when you are in a certain business where you set goals and achieve those goals, you start to feel like what's next. But what makes it better for me is, I'm in a business where there are different avenues available. You can be a deejay, selector, song writer, performer and entertainer. This talent God has given me, allows me to do so many things. So now this is almost like a new growth for me, and a new challenge," said DJ Chronic.
DJ Chronic said he would like to see Bahamians on the whole taking more time out to listen to their home grown musicians. "It is funny that an artist can come from abroad and make around $35,000 and when they leave, there is probably only $1,000 of that staying here," he said.
There are musicians that are born here, that are not asked to perform in their own country, he said. "You can see these people almost every week, whether they are in the food store or at the gas station. And we are making it hard to give them a certain amount of money to perform on stage. The problem is that we will see something, and instead of aiming to do better than that, we go and try to do the same thing," said DJ Chronic.
Chronic said he would not generalize in saying Bahamians do not support their own, but he would say they are being fed a certain type of music, so that is all they know of.