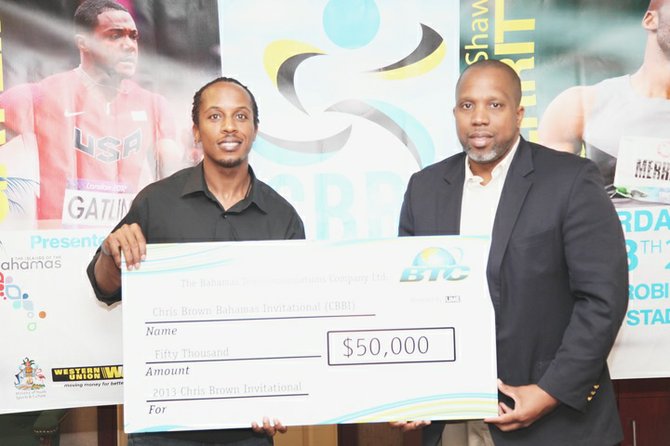 By BRENT STUBBS
Senior Sports Reporter
bstubbs@tribunemedia.net
ALTHOUGH it's still early in the outdoor season, he's excited to be putting on his inaugural Chris Brown Bahamas Invitational Track and Field Meet at the new Thomas A Robinson Track and Field Stadium next week Saturday.
On Thursday, BTC provided a cheque for $50,000 as they came on board as a gold medal sponsor of the meet, which will serve as the first on the IAAF calendar.
"It shows that we are definitely on the right track and with our state-of-the-art stadium, we are ready to host major championships and definitely take the Bahamas to the next level in terms of bringing in tourism in the country and helping the economy," Brown said.
Although he admitted that the Lord blessed him with the idea of putting on the meet about 2-3 years ago, Brown said the timing was not right until now.
"Once I got the athletes on board, then I knew that the timing was the right time," he said. "It's April, a lot of them agreed to compete, which is very early for professionals. So once I got everybody on board and I lined them up, I knew it couldn't be a better time."
And in case you're wondering if he has called it quits as an athlete, Brown stated emphatically that he's only venturing into the sport as a promoter for this meet, but he will be back on the track competing sometime in May as he gets set for the IAAF World Championships in August in Moscow, Russia.
"It's a lot of hard work. I didn't really know the paper work side of it. I just knew about contacting the athletes and letting them know that I'm putting on the meet," he said. "But to get behind the scene and to do the paper work and just basically get the manpower to put on an event like this, it's totally new for me. It's a lot of hard work.
"But the Lord never gives us more than we can handle, so I look forward to the challenge. I look forward to bringing a huge event here to the Bahamas and letting the Bahamian people know and see that if you can't go to London or Europe for a major world-class event, we will definitely have it here in the Bahamas every year."
Brown, the Bahamian national 400 metre record holder who ran the opening leg of the men's 4 x 400 relay team that captured the gold at the 2012 Olympic Games in London, England, said all the plans are falling into place and the athletes are all gearing up to come to the meet.
The meet comes right on the heels of the BTC Carifta Games and as one of the spokespersons for BTC, Brown said he was excited when they decided to lend their financial support to his meet.
"The Lord makes everything happen. He got BTC on board with us at a major point and time and it's going to go a long way for us," Brown said. "We knew we were competing with CARIFTA, but our event was actually scheduled a year ago, but things are looking good for us because of BTC and other sponsors who are on board with us."
With just about a week before the event is staged, Brown said they are still welcoming any companies out there who wish to come on board and lend their financial support.
Marlon Johnson, senior vice president for marketing and public relations at BTC, said they are once again thrilled to be leading the way, not only in supporting athletics, but one of the Bahamas' finest sons in Brown.
"BTC is proud to be a gold sponsor for what is the inaugural of many more Chris Brown Invitational Track and Field events," Johnson said.
"This will bring together many talents that were on display in London and our very one Bahamian talent who would have competed."
Over the past year, Johnson admitted that BTC has contributed more than $700,000 in support of Bahamian athletics and while they have gotten it back in the support from the Bahamian public, they are just delighted to see the impact that they've had on the young people of the Bahamas and even the participating countries as was evident at the recent BTC CARIFTA Games.
"I want to encourage the public to come out and support Chris Brown," Johnson said. "It's a wonderful family event and you will get to see some world-class athletes on display and for those of you who haven't gotten to see the new stadium, this is your opportunity to do so."
As usual, Johnson said BTC will be providing a number of give-aways as they did at CARIFTA and they will be making sure that all of the necessary internet services will be provided for the media as they try to make up for the deficiencies that may have been experienced by the visiting media at the games.
"We anticipate no problems whatsoever in terms of facilitating both the local and international press," said Kathy Ingraham of Capital City Marketing, who is in charge of the public relations and marketing of the meet.
"In terms of internet, BTC is our presenting gold medal sponsor and they have assured us that all is well and there will be no issues. But if there is a wish list, let us know."
Fans coming to the meet will get to see some of the top athletes in action like Jamaican sprinter Veronica Campbell-Brown, Americans LaShawn Merritt, Justin Gatlin, Darvis Patton and Wallace Spearmon and Bahamians Christine Amertil, Trevor Barry, Donald Thomas, Shamar Sands and possibly Anthonique Strachan.
Tickets, according to Ingraham, are available at BTC's Marathon Mall office and their branch in the Southwest Plaza, at the new TAR stadium and online at bahamasinvitational.com.