By BRENT STUBBS
Senior Sports Reporter
bstubbs@tribunemedia.net
SHENIQUA 'Q' Ferguson, Anthonique Strachan and Warren Fraser opened their 2013 outdoor seasons with victories in the Auburn Tiger Track Classic at Auburn University in Alabama over the weekend.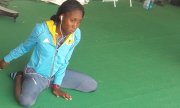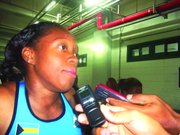 Ferguson easily won the women's 100 metres in 11.33 seconds to beat out the field that included Grand Bahamian Nivea Smith, who is slowly making her way back after going down with an injury last year. Smith placed sixth in the race in 11.64.
"It wasn't what I wanted to run, but it was a season opener, so it showed where I need to put in the work and go from here. It can only get better," Ferguson said. "I'm pleased with the time that I opened up with, but I definitely wanted to run a bit faster."
Ferguson, now a fully fledged elite athlete after graduating from Auburn University last year, said the lack of collegiate meets has certainly made a difference for her this year.
"In the past, you had the collegiate meets to run in every weekend, but right now you have to get in certain meets," she said. "You just hope to get in the meets with the top athletes and then go out there and run fast."
With the IAAF World Championships in Moscow, Russia, in August as the pivotal meet for the year, Ferguson said she has one goal in mind.
"I really want to go there and get into the final," she said. "So I'm working towards that. I really want to go there and have a good showing. My training has been good. I've put in a lot of work, so it can only be a good season for me from here. We got a lot of good weather this year, so it really didn't affect the training, which was good."
As for Strachan, she breezed through the womem's 200 in 22.93.
Strachan, who was home over the weekend for the BTC Carifta Games where she watched Shanuae Miller eclipse her 200 record in a time of 22.77 as she went on to win the Austin Sealy Award for the most outstanding athlete this year, had some competition from Smith, who came through in third in 23.42.
"I'm really satisfied with opening up with the 22," said Strachan, who won the Austin Sealy award the previous two years. "This is my first year as a senior and usually as a junior, I always open up with a 23.8 or so. Last year, I opened with 23.83. This year, I opened with 22.9, so I'm really satisfied."
With the Worlds as her ultimate target this year, Strachan said she just wants to stay healthy, qualify and be ready to go to Russia and run extremely well.
"I still have things to work on, but after I qualify for Worlds and come to the trials and run, hopefully everything will come together and then I will be prepared for it," she said.
On Miller's stellar performance at Carifta, Strachan said like anybody, she was disappointed that her record fell. "But that's the rules for records. Somebody has to set the record for somebody to break it," she said. "It doesn't change the fact that it was a Bahamian who broke it, the record was broken."
V'Alonee Robinson, now in her senior year at Auburn University, contested the women's 100 hurdles for the first time in about two years. She won her heat but was 14th overall in 14.15. The race was won by Clemson's sophomore Kedra Harrison in 12.87.
The Auburn Elite team of Ferguson, Jamaican Kerron Stewart, Smith and Strachan won the women's 4 x 100 relay in 43.45. Robinson ran the third leg for Auburn University as they ended up third in 45.26.
On the men's side, Fraser, in his senior year at Clemson University, breezed through the 100 in 10.34. Bahamian Jamial Rolle, competing unattached, also won his heat but was fourth overall in 10.50.
Rolle, however, got the better of the duo in the 200 when he came in second in his heat for fourth in 20.90, while Fraser was 6th in 20.99 after he was fourth in his heat.
Fraser, a member of last year's Olympic team in London, England, also ran the second leg on Clemson's 4 x 100 relay that won in 40.02.
Henry Rolle, an assistant coach at Auburn who is also in charge of the Auburn Elite team, said he's looking forward to some great things from the Bahamians.
"I'm doing some things different with Sheniqua this year. Last year, she started out really fast and faded down the end of the season," he said. "This year, I decided to do a lot of strength work, so you won't see a lot of fast times from her early. If she does, it's going to be really good for her at the end of the year."
Rolle said he was hoping that she would have run under 11.33, but considering her off-season workouts, he was still pleased with the effort.
As for Strachan, Rolle said it was a relatively easy race for her.
"That's a good sign. I really believe I can get her to run a second faster in August," he said.
Smith, according to Rolle, is getting back into form after sitting out the majority of last year when she got injured at the SEC Championships. "She's just really getting back to what it's like to be competing," he said. "She still has some work to do, but she will be okay when the time comes."
And Leevan "Superman" Sands, who is rehabbing after surgery to repair his knee at last year's Olympics, is expected to start training for the first time in May, according to Rolle, who noted that he doesn't anticipate that he will be able to compete in Russia.