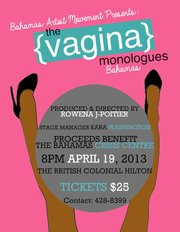 V-Day Nassau Bahamas will present a one-night only benefit reading of Eve Ensler's award-winning play The Vagina Monologues. Women and men of the Bahamas are volunteering their time and talent to stage the event and fundraise for the Bahamas Crisis Centre.

Last year over 5,800 V-Day benefits were held around the world raising funds and awareness towards ending violence against women. These highly successful events raised over $5 million through
performance of Eve Ensler's lauded play. The Bahamas Artist Movement (BAM) has joined this global movement as part of the V-Day 2013 Nassau, Bahamas campaign.

This is the first time in the history of the movement that the Bahamas will participate. BAM's Artistic Director and V-Day Coordinator Rowena Poitier is leading the way.

"This production is truly a part of a larger movement that is happening in the Bahamas. Over 50 women and men (V-Men & V-Women) have volunteered their time and talents to make this event happen. These
volunteers are taking a stand against violence and honoring the mothers, daughters, lovers and nurturers of our world. The proceeds will go The Bahamas Crisis Centre so that they can continue to provide
necessary and vital services to The Bahamas. The Vagina Monologues is in keeping with BAM's vision of providing performing and showcase opportunities, using works that encourage exploration and critique of social issues that engage audiences in an exchange of ideas and open discussion."
Hailed by The New York Times as "funny" and "poignant" and by the Daily News as "intelligent" and "courageous," The Vagina Monologues, which was first performed off-Broadway by Ms Ensler, dives into the mystery, humor, pain, power, wisdom, outrage and excitement buried in women's experiences. Ms Ensler has performed the play to great acclaim throughout the world - from Zagreb to Santa Barbara,
from London to Seattle, from Jerusalem to Oklahoma City. Villard Books/Random House first published The Vagina Monologues, which includes a foreword by Gloria Steinem, in February 1998.

V-Day is a global activist movement to end violence against women and girls. V-Day is a catalyst that promotes creative events to increase awareness, raise money, and revitalize the spirit of existing anti-violence s. V-Day generates broader attention for the fight to stop violence against women and girls, including rape, battery, incest, female genital mutilation (FGM), and sex slavery.
In Africa, the Middle East, and Asia, V-Day commits ongoing support to build movements and anti-violence networks. Working with local organisations, V-Day provided hard-won funding that helped open the first shelters for women in Egypt and Iraq; sponsored annual workshops and three national campaigns in Afghanistan; convened the "Confronting Violence" conference of South Asian women leaders; and donated satellite-phones to Afghan women to keep lines of communication open and action plans moving forward. V-Day was instrumental in the founding of Karama, a program working in Egypt, Sudan, Morocco, Tunisia, Algeria, Jordan, Syria and Lebanon that works to build upon and strengthen efforts to end violence against women by bringing together local women's organizations and other civil society groups in collaboration, analysis and advocacy at national, regional and international levels.