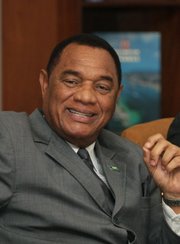 By NATARIO McKENZIE
Tribune Business Reporter
nmckenzie@tribunemedia.net
THE Bahamas has the opportunity to become a "world leader" in the field of stem cell research and therapy, Prime Minister Perry Christie said yesterday, as he tabled a Bill seeking to regulate the sector in the Bahamas.
  "The Bahamas has an opportunity to become a world leader among nations in that field, and this legislation is designed to help achieve that goalm," he told the House of Assembly.
"The Bahamas now has the opportunity to host several stem cell initiatives. Corporations and companies interested in establishing stem cell research and therapy centres in the Bahamas are proposing to build health care facilities and laboratories, create jobs and offer treatments that will improve the  lives of many of our citizens.
"These  projects  also promise to attract leading scientists to conduct research, establish institutions and centres for excellence and relocate them here," said Mr Christie.
Apart from foreign interests, Bahamas-based health care institutions, such as Doctors Hospital and the Bahamas Heart Centre, headed by cardiologist Dr Conville Brown, are also looking to establish stem cell facilities.
Mr Christie said the Government was "fully aware" of the concerns that needed to be addressed before allowing stem cell research and therapy to proceed.
"We commissioned a task force to study this issue," he added. "The task force issued a thorough and thoughtful report summarising the current state of stem cell science and the ethical debate regarding related controversial issues.
"We have also recently taken counsel from the Christian Coalition, along with ongoing consolation within the medical and science community. Based on all input we received, our position is that before allowing stem cell research or therapy in our country, we must first establish a legal framework for regulating this new science.
"Consequently, we have halted the pending stem cell proposals until we do so. We recognise it is critical to have in place a system to approve and monitor stem cell research and therapy to protect our reputation, guard against road scientists and scandals, ensure the safety of patients in the Bahamas and assure our people that all stem cell research and therapy will be conducted in accordance with our own ethical values following international best practices.
"This legal framework will create a regulatory regime covering all aspects of stem cell research, namely clinical research, non-clinical research and therapeutic uses in people. The framework will prohibit and deter procedures that are unethical or scientifically unfounded, such as human reproductive cloning."
    Mr Christie said every facility or laboratory used for stem cell research or therapy must obtain a license under the Hospital and Health Care Facility Act.
"This provision will subject all those facilities to inspections by individuals with appropriate qualifications, which the Minster of Health has the authority to specify by regulations. The provision will also subject those facilities to fees set by the Minister of Health, which will be used to cover the cost necessary to hire or train certified inspectors," said the Prime Minister.