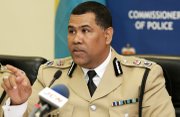 By KHRISNA VIRGIL
Tribune Staff Reporter
kvirgil@tribunemedia.net
THE Royal Bahamas Police Force has launched an intensive investigation into all web shops throughout the country to determine whether illegal activities are taking place, according to Police Commissioner Ellison Greenslade.
This new development came from the Commissioner yesterday just days after Chief Justice Michael Barnett lifted an interlocutory order that had kept web shops open.
Since then, the public and political pundits have been calling on the RBPF to take action and shut down number houses everywhere.
However, Mr Greenslade told The Tribune that it won't work that way. He said the Force is now conducting a probe to see if web shop owners are deviating from the clauses of operation allowed in their business licenses.

He also said he would not discuss how, when or what tactics the police would use to carry out the clampdown.
"The police," Mr Greenslade said, "will do what is allowed by law.
"With the web shops, if they have legitimate business licenses we cannot just go in and shut them down. If you do that then you are doing something illegal.
"But what we are doing from here on out is we are investigating these businesses and where we find that they are doing something illegal and not within the confines of the law we will shut them down. We are wide awake on this.
"If you are offending against the law as a business person we will take action against you.
"As for how, when, where it will be done, I will not have that discussion with anyone. But people will hear and see when the police force makes its move."
Concern has been raised that the Christie administration is attempting to dodge the issue of shutting down web shops as it appears that no one in government wants to take on the job of enforcing the law.
On Wednesday, National Security Minister Dr Bernard Nottage said that although he was certain that the police force has enough personnel to do whatever needed to be done with web shops, he could not say what the definitive plans were.
He added that it was not his job to direct the police chief.
Dr Nottage said: "We haven't spoken about shutting down the web shops, that's not my job.
"It's not the minister's job to tell the commissioner how to do his job."
He said that officials would have to wait on the advice of Attorney General Allyson Maynard-Gibson before making a decision on the way forward.