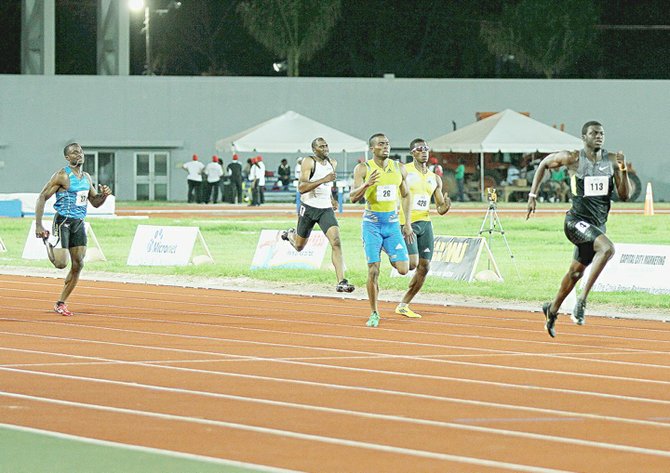 By BRENT STUBBS
Senior Sports Reporter
bstubbs@tribunemedia.net
Chris "Fireman" Brown stood with keen interest as he watched Grenada's Kirani James heat up the Thomas A Robinson Track and Field Stadium to highlight an action-filled evening in his inaugural Chris Brown Bahamas Invitational.
"I saw what he did. It just means that after this (promotion of the meet, along with GVI & Associates Company Limited and Capital City Marketing) I know what I have to go back and do in training to get ready (for the eventual showdown at the IAAF World Championships in August in Moscow, Russia)," Brown said.
After taking his time coming out of the blocks, James shook off a challenge on the back stretch from Bahamian 'golden knight' Michael Mathieu to surge into another gear coming off the final bend to easily take the men's 400 metres.
The time - 44.72 - seconds was the fastest ever done on Bahamian soil and the best posted so far for the year with Mathieu holding on for second in 45.83 and fellow 'golden knight' Ramon Miller, who anchored the Bahamas 4 x 400 relay to an historic gold medal at the 2012 London, England, surging back down the stretch to take third in 45.84.
"I just wanted to get a time. I still have to work on a lot of stuff," said the 20-year-old James, whose only defeat at a global meet came at the 2008 World Junior Championships in Bydgoszcz. "It was a good race. It was just the first one for the year, so I just wanted to do what I had to do to win."
As he was being interviewed by meet announcer Lewis Johnson of NBC, James threw his pair of sprints into the stands in his show of appreciation to their spectators for their support of his impressive performance.
Mathieu admitted that it wasn't as quick as he anticipated, but he will take it.
"I felt in my last 200, I just couldn't go with him," Mathieu said. "But it felt pretty good. I just have to go back to the drawing board and get ready for the rest of the season."
As for Miller, the race was a good indication of where he's at right now.
"I just started my speed work, but it isn't where I want it to be because we took so much time off for the victory celebrations," he said. "I'm coming back in shape. That was the time I wanted to run. There wasn't any pressure. I came out and executed my race."
Joining the Bahamian national record holder on the sidelines watching was American former champion LaShawn Merritt, who went down with an injury in the preliminaries of the 400m at last year's Olympics. Merritt dropped down to the 200m where he stopped the clock in 20.34 seconds ahead of his compatriot Justin Gatlin, who trailed in 20.44 ahead of Mike Rodgers' 20.87.
"It felt great. I haven't run since Monaco last year," Merritt said. "My training was going good, so I just wanted to come in and put in a good race and not tighten up at the end because I know I was going to be running against some speed runners. I had to rely on my speed in the 400 to pull me through."
Gatlin, the 2004 Athens 100m gold and 200m bronze medallist, 2012 London Olympics 100m bronze medallist and 2005 Helsinki World Championship 100 and 200 gold medallist, said he felt good about his entire race transformation.
"I felt good, coming off the curve, working the curve," he said. "I know that LaShawn got hurt last year and he has a vendetta. He wants to come back and race against the world, so I know he was going to be ready."
Bahamian Jamial Rolle ran 21.26 for sixth. "Felt like I was running into a hurricane on the home stretch," Rolle said. "But it was what it was. I'm just happy to get the opportunity to run against these world-class athletes."
The race saw Bahamian 'golden knight' Demetrius Pinder go down with what appeared to be a hamstring pull midway down the straightaway. But after getting some medical attention, he was back up on his feet.
Pinder was interviewed by meet announcer Lewis Johnson from NBC, who indicated that he was feeling quite well and only had a minor setback, but he was looking forward to getting back on track when he resumes training this week with Merritt in preparation for the Worlds.
However, Bahamians who stayed until the end were a little disappointed that the Bahamas didn't field a men's 4 x 4 team to compete against the USA and Jamaica in the grand finale. It could have turned into a World Championship qualifier with three countries competing and the Bahamas would only need to improve on its time going into the Penn Relays this weekend.
As the fans departed, the stadium was plunged into darkness and the fireworks, displaying Brown's signature nickname, lit up the skies for about five to 10 minutes. It may have made up for the closing of the curtains on the track in the grand finale in the relays.