THE Coalition to Save Clifton has urged antagonists to "stop playing games" over the heritage site.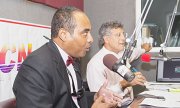 With the rhetoric reaching "ridiculous levels in some quarters", the Coalition, the original crusaders who fought against and halted development plans of Clifton, said the area should not be the subject of spats between billionaires.
"Recently, the local media reported that Mr Peter Nygard, who is at 'war' with his Lyford Cay neighbour Mr Louis Bacon, made comments which Coalition to Save Clifton has dismissed as playing games," said the Coalition in a statement.
Mr Nygard had called upon Mr Bacon not to use Clifton as a field for new battles between them, and said Mr Bacon should join hands with him so they can work together to help save and restore Clifton Cay and Bay for the Bahamian people.
Although Mr Nygard suggested "he would lead the charge, sword in hand" the Coalition said it wishes to point out that Clifton is not, and has never been, a field of battle between him and Mr Bacon, nor will it ever become so.
"While non-Bahamian residents and international persons have supported and assisted the fight to save Clifton 14 years ago for which we are grateful, it would not be necessary nor desirable for Mr Nygard to 'lead the charge' to restore the slave sites or restore the land, even if it was needed."
The statement acknowledged that much more work needs to be done at Clifton, especially the removal of all obstacles to the establishment of the proposed National Sea Park, and the restoring of the coastline to its former state.
"Mr Nygard and all others are invited and welcome to support this effort," it said.