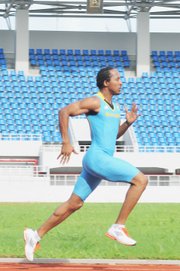 By BRENT STUBBS
Senior Sports Reporter
bstubbs@tribunemedia.net
AFTER going through an exhausting three-week period to get ready for his introduction to the promotion of track and field, 'golden knight' Chris "Fireman" Brown intends to take a well-deserved rest at home with his family in Wemyss Bight, Eleuthera, before he resumes training for the outdoor season.
Brown, the 34-year-old national 400 metre record holder, took a break from his training regimen to put on his inaugural Chris Brown Bahamas Invitational at the new Thomas A Robinson Track and Field Stadium on Saturday. A number of top notch competitors participated in the meet as they began their trek towards the IAAF World Championships in August in Moscow, Russia.
"I am blessed and highly favoured. I give God all thanks and praise for allowing me to give the Bahamian people and the whole Bahamas such a wonderful gift," he said. "I'm just speechless. The fans came out and supported the meet and I want to thank all of the sponsors who helped to make it happen.
"To pull this event off was a huge success and I couldn't do it without GVI and Associates, Capital City Marketing and the Bahamas Government. It was not an easy job, but the Lord isn't going to give you more than you can handle, so I just want to thank him for allowing me this opportunity because it could have been anyone else. I'm just thankful to him."
The meet saw Brown's arch rival Kirani James, the reigning World and Olympic champion from Grenada, win the men's 400 metres, while another rival, American LaShawn Merritt, former World and Olympic champion, take the 200m. Both events featured Brown's teammates on the Bahamas gold medal 4 x 400 relay team at the Olympics in Michael Mathieu, Ramon Miller and Demetrius Pinder.
"I'm 100 per cent pleased. It's great when you can ask for a favour and so many athletes can come and support you," Brown said. "They come and push the meet, so I'm just speechless. Deep inside, I'm feeling good. I just wanted to make the Bahamian people feel so proud."
After getting so excited when he saw the 400 that he was thinking about running, Brown said he was content to be on the sidelines watching. But he noted that immediately after taking a week off in Eleuthera, he will resume his training in preparation for the long haul for Moscow.
"I will crank it up in about two weeks after I put this all behind me," Brown said. "I'm just grateful and humbled that it's all over."
Looking back, Brown said he was extremely pleased with the performances turned in by all of the athletes considering that it's April and it's early in the season.
"For the world to see these fast times makes me feel good," he said. "It also opens up the door to know that these athletes can compete in any type of conditions so early in the season. It's a great feeling, so I'm looking forward to getting back on the track myself and bringing the fire like I always do."
Talking about the inaugural meet, Brown admitted that there's always room for improvement. "Next year, we won't be faced with the challenge of coming behind the CARIFTA Games, so we look to get out early with our marketing and we look to get more sponsors on board and inviting more local athletes, here in New Providence, the Family Islands and even abroad, to compete," he said.
"We will also put in two new events next year so we can give the Bahamian public more of a variety because we don't just want them to see the sprints, but some distance running and show the Bahamas that everybody is not just a sprinter," he said. "So I'm definitely going to bring some distance running and possibly the pole vault as we look at doing it bigger and better."
It was a challenge since Brown first pursued putting on the meet a year ago, only to be told that it wouldn't happen because the new stadium wasn't ready. At one point, he was prepared to take it to Grand Bahama, but because of the exorbitant expenses involved, he opted to wait until this year.
"I don't mind the challenge. It was very stressful and some athletes are very difficult to deal with. I never knew that, but now I know," he said. "I now know what it is like to wear both shoes as an athlete and as a promoter. So I'm just grateful and thankful that I got the opportunity to do it."
Having had a successful team assisting him, including meet director Dianne Woodside, meet coordinator Grafton Ifill II, marketing manager Kathy Ingraham and press manager Fred Sturrup, Brown said they couldn't have done it without the support from all of the volunteers and the police force.
"I don't think we could have picked a better team. I'm just grateful to everybody who helped out," he said.
Again, Brown said his only regret was that he wasn't able to put on his spikes and compete. "I would definitely like to come here and compete in a world-class meet like this before I retire," he said. "I really want to put one down for the Bahamian public, even if it's just a 4 x 400. So I will definitely wait for that opportunity."
Brown has a 2016 target date for retirement after he competes in his final appearance at the Olympic Games in Rio de Janeiro, Brazil.
"After Rio, the Bahamas can look to see me hang it up and really go full time as a promoter," he said. "But right now, they can expect for me to continue competing. I'm not retiring any time soon. I'm just thankful for their support. I'm embracing the moment. It's just a great feeling. Words can't express how I feel."
Based on his conditioning when he gets back into training, Brown said he will make a determination on exactly when he will start his 2013 campaign. He originally had the Cayman Islands Invitational as his debut, but that could be in jeopardy.
"The Lord has been guiding me. He's been guiding me for a long time," Brown said. "I'm just excited for the season. I just have to give my body some rest, eat some good Bahamian home-cooked food, go on the beach and relax and eat some pineapple before I start training again."
In the meantime, Brown said he will just bask in the success of his inaugural meet.