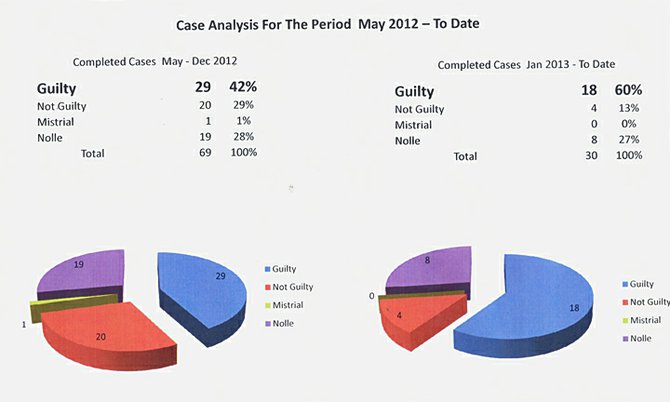 By DANA SMITH
Tribune Staff Reporter
dsmith@tribunemedia.net
THE government's Swift Justice initiative has created an increase in the conviction rate of nearly 20 per cent, according to statistics released by Attorney General Allyson Maynard-Gibson.
In revealing the latest statistics yesterday at the Office of the Attorney General, she also said the initiative has helped put a dent in the "decades" of backlogged cases.
Prison officials also credited the initiative as saving the government thousands of dollars.
"When I became attorney general in May, (State Minister for Legal Affairs Damien Gomez) and I agreed, based upon the mandate of the Prime Minister, that we would re-implement Swift Justice," she said.
"You will see that between May and December, we were able to achieve a 42 per cent conviction rate and also with five judges, we heard 69 matters.
In October we augmented swift justice – what has happened is we are working even more closely with stakeholders. You will see, as a result of that, between January to date we were able to move from a 42 per cent conviction rate to a 61 per cent conviction rate. So we're moving in the right direction."
The country's criminal justice system is also "moving in the right direction" in terms of disposing of matters before the courts, Mrs Maynard-Gibson added.
"In less than 12 weeks, we were able to dispose of 23 matters – the same five judges," she said. "We can project that if we continue on that course, by the end of the year we will easily dispose of at least 200 matters and that is our target."
The attorney general also noted Swift Justice is helping to put a "dent" into the "tremendous backlog" of cases.
"If every judge were to sit, if we had a full bench – we now have 12 of them – and every one of them sat every day this year, we would still not have gotten rid of the backlog by the end of this year. That's how big the backlog is," she said.
"What is happening with Swift Justice is now that everything that is within our control, the state's control, to bring to the table, is coming to the table.
"Matters are proceeding and we are making a dent. We have a long way to go, we've had decades of a backlog and decades of a broken system that is now being fixed."
Doan Clare, assistant superintendent of Her Majesty's Prison, also spoke and said Swift Justice has facilitated the installation of video links in the Supreme Court and better "evidence tools."
He said: "With this new infusion of equipment into the courts, we are now saving the government thousands of dollars in terms of bringing in witnesses from abroad and also reproducing images during trials."