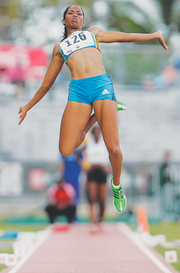 By BRENT STUBBS
Senior Sports Reporter
bstubbs@tribunemedia.net
SHENIQUA "Q" Ferguson, Shaunae Miller, Bianca Stuart and Ryan Ingraham pulled off victories as they led a Bahamian connection from Auburn, Alabama, Athens, Georgia and Nassau at the Auburn War Eagle Invitational over the weekend.
The meet turned out to be a clash of the titans as the excitement continues to brew in the prelude to the Bahamas Association of Athletic Associations' National Open Track and Field Championships in June and anticipation for the team to represent the Bahamas at the IAAF World Championships in Moscow, Russia, in August.
Sheniqua Ferguson, fresh off her fifth place finish in 11.40 at the Chris Brown Bahamas Invitational, clocked 11.26 seconds to snatch the victory in the women's 100 metres ahead of Jamaican Kerron Stewart. In the process, Ferguson ran under the A qualifying standard of 11.28 for the Worlds.
Stewart, representing Nike, came across the line in 11.27.Anthonique Strachan finished third in 11.47 and Nivea Smith took fifth in 11.71.
In her post-BTC CARIFTA success, Shaunae Miller stopped the clock in 22.61 in the 200m to also surpass the Worlds A qualifying standard of 23.05 as she out-distanced Ferguson, who ran 23.32.
Tynia Gaither, who like Miller is in her freshman year at the University of Georgia, was third in 23.65. Cottrell Martin and Lanece Clarke, both competing for the Athens-based High Performance Management Team (HPMT), were fifth (23.87) and seventh (24.06) respectively.
Aymara Jones, also competing for HPMT, was the lone competitor in the 400m. She ran 55.04 for sixth place. The race was won by Monica Hargrove of Under Armour in 52.57.
The women's 100m hurdles had three Bahamians entered with HMPT's Krystal Bodie taking third in 13.49. V'Alonee Robinson, a junior at Auburn, was fourth in 13.74 and Tiavania Thompson, also from HMPT, was fifth in 14.02. The race was won by Kimberley Laing in 13.09.
On the men's side, 2009 IAAF World 100m champion Derrick Atkins made his 2013 debut by running in the 200m where he was second in 20.96 behind George's junior Johnathan Smith, who ran 20.73 for the victory.
Andrea Williams, competing for HMPT, was the lone competitor in the 400m, taking fourth in 48.67. Torrin Lawrence, competing unattached, won in 45.80.
On the field, Bianca Stuart, competing unattached, won the women's long jump with a leap of 6.62 metres or 21-feet, 8 3/4-inches. Her brother, Nyles Stuart, was second in the men's long jump with a leap of 7.41m or 24-3 3/4. The winning leap was 7.55m or 24-9 1/4 by George Fields of Shore AC.
And fresh off their second and third place finish over Trevor Barry and Donald Thomas at the Chris Brown Bahamas Invitational, Ryan Ingraham picked up the victory in the men's high jump with his leap of 2.28m or 7-5 3/4 to match the Worlds B qualifying standard, while Jamal Wilson was second with 2.22m or 7-3 1/5.
Auburn's assistant coach Henry Rolle said he was pleased with the performances produced by the athletes at the meet.
"I felt that V'Alonee is beginning to turn the corners," Rolle said. "She improved in the hurdles and this is just her second one in two years. She will go to Penns this weekend and run the 100 and do the long jump."
As for Ferguson, Rolle said had she ran that fast at the CBB, she could have been a contender for the title.
"Her training is a bit heavy, so I'm not too concerned about her right now," Rolle said. "Obviously, she has the World Championship qualifying time for that event. So it's just a matter of her making up her mind to run that event. Sometimes, when they run one race, they don't stay committed and focused on completing the task in the other event.
"But not to take anything away from Shaunae Miller. She ran really, really well. George (Cleare) is doing a great job with her. If she stays healthy, she should be capable of doing some great things this year."
On the other hand, Rolle said Strachan ran her first 100m since winning last year's World Junior Championships, but he's preparing her to get ready for the World Championships.
"She's going to run herself into great shape," Rolle said. "She should run under 11.30 because her training is a lot heavier this year because she's not in school where she gets to compete just about every weekend."
Rolle said his main concern is Nivea Smith, whom he noted will have to pick it up in order to be able to make the World Championship team. Additionally, Rolle said Stuart is slowly coming into her own and he expects that she will be ready to compete well this year.
Cleare, an assistant coach at the University of Georgia, said he too was pleased with the squad he's working with.
"It wasn't a major meet. It was just a chance to see where we are because training during the week was a little heavy," Cleare said. "So the expectations wasn't to post the fast times because we're getting ready for Conference and a few other meets. But Shaunae ran a very good time. She felt comfortable running within herself.
"Tynia Gaither was consistent, so I'm looking for her to drop her times when she starts running the 200. So I think it was a decent meet and a decent performance from both of them."
Cleare said the meet was good from the perspective that he got a chance to look past college and view the level of the athletes that are competing out of his HMPT that he started in Nassau.
"With the Bahamas being so small and a lot of the athletes not getting the kind of international exposure, this was good to get them ready," Cleare said. "I think they all went out there and performed well. We just have to keep plugging at it and hope that they are ready to run faster when the time comes."
The majority of the athletes will be representing the Bahamas at the Penn Relay Festival in Philadelphia this weekend.