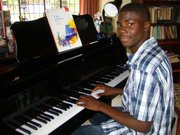 By ALESHA CADET
Tribune Features Reporter
acadet@tribunemedia.net
TWO BAHAMIAN piano students were recognised with honours at the recent Associated Board of The Royal Schools of Music (ABRSM) High Scorers' Concert, held at the St Andrew's Presbyterian Church. Both students, Alyssa Iferenta and Tajaro Hudson, have performed in every concert since this special event was organised in 2010, and have now received their fourth distinction in the graded music examinations.
So far, Alyssa has obtained three distinctions and a merit in piano examinations and a distinction in her flute examination. Tajaro Hudson has received four distinctions in four consecutive years.
According to their piano instructor Rosalie Fawkes, ABRSM is the examination board for The Royal Schools of Music, and every year examiners from the United Kingdom travel to over 90 countries assessing over 600,000 students from around the world.

She said ABRSM High Scorers' Concerts are special events that recognise the hard work and achievement of high scoring students from recent examinations.
In an interview with In Ya Ear, both students shared their experience taking part in the concert, the examinations and where they see themselves in the future.
Fifteen year old Tarajo said he has been involved in music for the past eight years, and he sees the industry as a long term goal for him. "I plan on using the piano as a source of income in the future," he said.
"It was a huge relief knowing that the hard work that I have put into music for so many years is paying off.
The examination challenged me because normally during regular classes there is nothing to work towards; I just learn new songs constantly. For the exam you have to make sure everything is precise if you want a good score, which forces me to push myself," said Tajaro.
For thirteen year old Alyssa, she said with music, her intention is to always improve and maintain her skills. The skills she has been developing for six years now.
She said receiving her distinction felt great because it was a major accomplishment. "After working so hard towards my goal it was rewarding to be successful. The best advice that I received about taking part in the Royal Schools of Music High Scorer's Concert was to keep calm and you will be fine," said Alyssa.
Tajaro said: "The best advice I received about taking part in the concert was, I have played this song for months now and there is no need to be nervous. I just needed to go up there and do what I have been doing for several months, which is what I did."
"I would tell all students attempting to succeed in the art of music, that it is not going to come easily. Everything takes time and with practice you will achieve what it is you want to achieve. I plan to take the grade 5 exam to further my skills in playing the piano. My goal is to get another distinction," said Tajaro.
Alyssa encouraged students like herself to manage their time wisely and to be committed to a practice schedule when it comes to music.