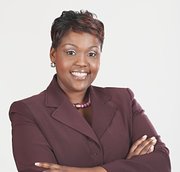 RBC FINCO's managing director, Tanya McCartney, has been awarded the 2013 Cheryl Bazard Founding President's Award.

The award, which is presented by the Bahamas Association of Compliance Officers (BACO), is given each year to a person who has made invaluable contributions to the development of the Bahamian community.
The Cheryl Bazard Founding President's Award is named in honour of Ms Bazard, who in 1999 established BACO.
BACO is made up of compliance officers throughout the Bahamas and has more than 100 members. Through its partnership with the International Compliance Association (ICA), it has produced 229 certified compliance professionals throughout the Bahamas.
Ms McCartney has been involved in community service for many years, including on the Council of the College of the Bahamas; the Zonta Club of Nassau; and the Board of the Public Hospitals Authority.

She is past president of the Bahamas Institute of Financial Services (BIFS), and a past president of BACO. Ms McCartney also hosts Cable 12's Roundtable, a show on current issues facing the country.
Marsha Ferguson, BACO president, and Cheryl Cartwright, BACO's past president from 2000-2001, congratulated Ms McCartney on her award.

Ms Cartwright said: "Ms McCartney is a proud Bahamian whose love for her country and her fellow Bahamians is beyond question. She is a change leader in many arenas - banking, politics, national service and education. She leaves her mark and we are better off and enriched because of her tireless and many efforts."
Nathaniel Beneby, Royal Bank's market head for personal banking in the Bahamas, Cayman and Turks & Caicos Islands, added: "We are proud of Ms McCartney and thank her for her service to RBC and to the Bahamian community."