By RUPERT MISSICK Jr
HER Majesty's Prison continues to fail to meet international standards, with overcrowding and access to adequate medical care presenting major problems in the men's maximum-security block, a newly released 2012 human rights report from the US State Department points out.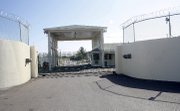 In August last year, authorities reported that the daily population of the prison and the remand centre exceeded 1,600, compared with 1,300 in October 2011.
Minister of National Security Bernard Nottage characterised the extent of overcrowding at the prison as "unacceptable", attributing the overcrowding to the large number of petty criminals incarcerated and the backlog in processing at the remand centre.
To address overcrowding in the remand centre, which stemmed from processing backlogs within the judicial system, authorities held detainees awaiting trial in the maximum-security block.
In June, the prison superintendent reported the maximum-security wing of the prison held nearly 900 inmates, which was twice the number of inmates it was built to house when constructed by British colonial authorities in 1953.
Non-Bahamian citizens, deemed to pose an escape risk, were generally held in remand in the maximum-security block. Authorities estimated that 46 per cent of those held in maximum security were awaiting trial.
In June, authorities reported that as many as six inmates were confined to cells intended for one or two prisoners.
Others remained in poorly ventilated and poorly lit cells that lacked regular running water. In 2010 authorities installed composting toilets in an attempt to move away from the unsanitary practice of removing human waste by bucket, or "slopping".
However, these toilets were ineffective and subsequently removed, after which slopping resumed.
Authorities allowed maximum-security inmates outside for exercise four days a week for one hour per day.
Medium-security and minimum-security units had running water and toilets, and, in some cases, a television for prisoners to watch.
Four reverse-osmosis units installed at various prison housing units allowed each inmate to extract a minimum of one gallon of potable water during exercise time each day, free of charge. In addition, bottled water and other beverages were available for purchase from the prison commissary.
Prison guards complained about conditions, including inadequate running water in the prison, repairs needed for the female prison, and improper management of officers.
They also cited the lack of a full-time dentist, failure to appoint a staff psychiatrist, incomplete perimeter walls for more than five years, a damaged roof in need of repair in the maximum-security block, and that the use of prison guards at the remand centre violated the Prison Act.