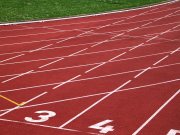 By BRENT STUBBS
Senior Sports Reporter
bstubbs@tribunemedia.net
THE St Augustine's College Big Red Machine led off the Bahamas' parade of athletes with a pair of victories on day one of the Penn Relay Carnival in Philadelphia.
The Big Red Machine, coached by Dianne Woodside, clinched the title in the high school girls' 4 x 400 metre relay Small School championship race. The time of three minutes and 55.80 seconds was ran by the team of Mesha Newbold, Devynne Charlton, Danielle Gibson and Dreshanae Rolle.
Westwood from Washington Town, New Jersey, trailed in 4:01.02.
SAC's team of Devynne Charlton, Makeya White, Danielle Gibson and Keianna Albury ran 47.28 to win heat 29 for fourth place overall. The winning time was produced by Holmwood Tech from Jamaica in 45.52.
The final is slated for 2:15pm today.
Bishop Michael Eldon's team of Aliyah Hilton, Juannae Lewis, Rachael Brown and Jasmine Walker from Grand Bahama finished 26th overall in 49.58, but they didn't advance.
Individually on the field, Brashae Wood was 15th in the high school girls' discus with a throw of 36.78 metres or 120-feet, 8 inches. The winning throw was 54.29m (178-1) by Gleneve Grange of Holmwood Tech from Jamaica.
Today, SAC, Queen's College and CV Bethel Stingrays as well as Grand Bahama's Jack Hayward High School and Freeport's Tabernacle Academy Falcons boys' teams are all set to compete in the 4 x 100 relay today. They will be joined by Moore's Island All-Age School from Abaco in the 4 x 400 relay on Saturday.
The Big Red Machine also has Denzil Pratt entered in the high school boys' javelin throw, while the Comets' D'Mitry Charlton is gearing up to run the 400m hurdles championship race on Saturday.
A number of Bahamians are also expected to represent their respective colleges and universities during the meet today and Saturday.
And the Bahamas' elite athletes will be featured in the USA versus the World on Saturday.
In the men's 4 x 100 relay at 1:30pm, the Bahamas is slated to race against Canada, France, Great Britain, Germany, Jamaica, Trinidad & Tobago and two USA teams.
In the women's 4 x 100 race at 1:40pm, the Bahamas is scheduled to compete against Canada, Germany, Jamaica, Nigeria, Trinidad & Tobago and two USA teams.
The women's 4 x 400 relay is set for 2:35pm with the Bahamas matched up against Canada, Great Britain, Jamaica, Nigeria, Russia and two USA teams.
And in the men's 4 x 400 relay at 2:52pm, the Bahamas competes against Canada, the Caribbean All-Stars, Great Britain, Jamaica, Kenya, Trinidad & Tobago and two USA teams.
The meet serves as a qualifier for the relay teams for the IAAF World Championships in Moscow, Russia, in August.