By AVA TURNQUEST
Tribune Staff Reporter
aturnquest@tribunemedia.net
PLP Chairman Bradley Roberts called on radio talk show host Darold Miller to provide evidence to support renewed allegations that web shop owners contributed to the party's electoral campaigns.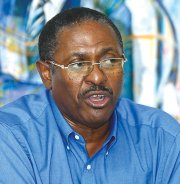 Mr Miller renewed claims that the Progressive Liberal Party made web shop owners pay for the general election, by-election, and referendum.
The claims follow a wider discourse on public disclosure, according to FNM Chairman Darron Cash, who said on Friday that there should be full disclosure from the governing party.
On his radio show, Mr Miller said: "[PLP] make them pay for the general election, they make them pay for the by-election, they make them pay for the referendum, now they're trying to throw them under the bus."
In an emailed response to The Tribune, Mr Roberts said: "Darold Miller claims are untrue and your records will disclose Party Leader Perry Christie's response on this bogus claim made in the past. I remind you that he who alleges must prove."
On Mr Miller's show yesterday, Island Luck CEO Sebas Bastian explained that he made contributions to candidates he chose to support directly.
Mr Bastian said: "I didn't make any contributions to any political party as such, I made contributions to individual candidates. If I saw a young fella look like he's gonna make a difference in Pinewood or San Salvador, if he needed sodas or some funding, I donated."
He added: "I never needed political favours, I didn't come up under any political regime so the notion that I have to back some political regime to ensure my success is ridiculous."
In an interview with The Tribune, Mr Cash said that denial without supporting documentation from the PLP was not surprising.
Mr Cash said: "It has long been FNM's view that the general election of 2012 was fuelled by numbers money and that the PLP are indebted to them lock stock and barrel. The big question still remains is to what degree is the Prime Minister personally accountable to number bosses."
Mr Cash also called on the government to disclose the earnings and arrangements made by Prime Minister Perry Christie and Deputy Prime Minister "Brave" Davis as lobbyists for Bahamas Petroleum Company, before they were the government.
He added: "As we await debate on oil drilling we have to address the fact that both the Prime Minister and Deputy Prime Minister were paid lobbyists for Bahamas Petroleum Company, the entity to which they granted oil exploration licenses."
"The Prime Minister cannot expect the Bahamian people to turn a blind eye to that," he said adding that in his opinion "they are compromised on oil drilling and compromised when it comes to making decisions even when it comes to number houses – that's why they're making such a mess of it."