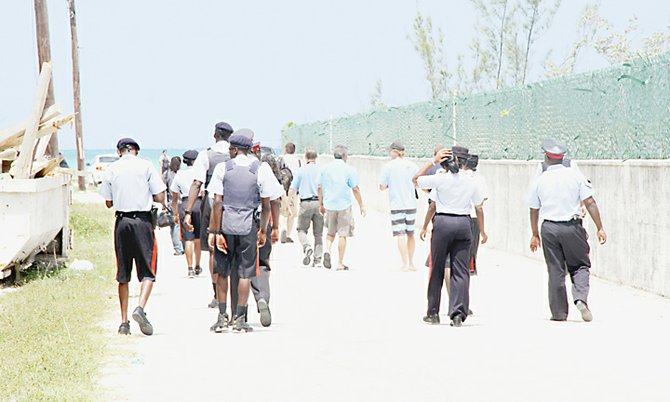 By CHESTER ROBARDS
Tribune Senior Reporter
crobards@tribunemedia.net
POLICE barred environmental activists from holding a press conference on Jaws Beach yesterday, and also prevented Keod Smith and his workers from carrying on with a clean-up campaign.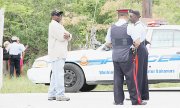 A line of about 17 police officers blocked the entrance to Jaws Beach with their patrol cars not allowing anyone to enter.
When the press conference was done, police escorted activists Fred Smith, Robert F. Kennedy Jr. and others to the beach, while keeping the road closed.
Keod Smith said he was responsible for calling the police and asking them not to allow Mr. Kennedy on Jaws Beach because the land is "not public" but "belongs to Bahamians".
"I am very concerned that the police even allowed Mr. Kennedy to actually come up here from the dock... he was not supposed to come on the land, period," he said.
"That was the arrangement (with police).
"Part of his campaign was to come out here and effectively do an act of aggression where he has come in on the Bahamian people's patrimony and to do his Conchservation programme and to dive from here symbolically. It is beyond, in my view, anything that is sensible to what he has in mind to do.
"So as to ensure that we did not have any kind of controversy or any kind of conflict I, Keod Smith, called the police and apprised the police of what we heard and that I was concerned that if in fact the people did what I was told they were coming out here to do it will cause a conflict."
Fred Smith said he was not at Clifton with Mr. Kennedy to talk about a conflict between himself and Keod Smith. He said: "I am not in a fight with Keod."
However, Keod Smith said: "For the sake of peace I said I would keep my people away (from Jaws Beach), please keep your people away."
Keod Smith added that his intention is not to keep Mr. Kennedy or Louis Bacon away from Clifton grounds, but to keep their political agenda away.
"Mr Kennedy is welcome to come here as long as he is not coming here to play his political games. Even Mr Bacon can come," he said. "But you just gat to know this black people land."
He said his fight for Clifton is not just a fight for the land, but to also "mentally secure the patrimony that we have" for Bahamians.
"From this point on we are now going to be here every day," Keod Smith said.
"I hope the police is not going to allow their muscle to be used by Mr. Bacon to achieve what appears is being pursued."