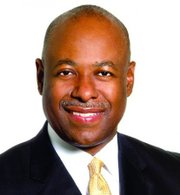 By NATARIO McKENZIE
Tribune Business Reporter
nmckenzie@tribunemedia.net
TOURISM Minister Obie Wilchcombe said that training for gaming inspectors would begin in a few weeks as the Government moves to ensure that the Gaming Board is "up to speed" before the Gaming Act 2013 and associated regulations are passed.
Minister Wilchcombe, who has responsibility for gaming, said: "We begin training in a couple of weeks with the professionals from the board on a number of the recommendations so it just follows that the legislation will come to Parliament but we want to be in a state of readiness when the legislation is passed."
Mr Wilchcombe added: "We have to make sure that the Gaming Board is ready and we have looked at the changes we have to make based on the discussions in the country about the draft and all the other recommendations we would have had subsequent to it hitting the streets. We have done that now, there are one or two things we are still looking at but we are going to begin the training process to ensure that the people at the Gaming Board are up to speed and understand the type of games that are going to be introduced before they get to the casinos."
Mr Wilchcombe suggested that the Gaming Bill would be tabled if not before the summer break, when Parliament resumes thereafter. "As a destination we are competing so our games and our level of games, the type of games, the devices we use are all a part of things we have to introduce but that requires us to be fully ready before we introduce the legislation and we're not ready. We believe we're moving with haste and if not before the summer break we are going to have it after the summer break," Mr Wilchcombe said.
The Gaming Act 2013, and associated regulations, will allow Bahamas-based casinos to offer sports betting, in-play wagering and online gaming via cell phones and computers. There will also be incentives for 'junket' group visits.
The amended law removes the prohibition on non-Bahamian permanent residents and work permit holders gambling in Bahamian casinos.
"We're training people at the Gaming Board and were also bringing in individuals who will become experts in monitoring, from the technology stand point. Right now we don't do that. As an industry we have to understand what is being used at the various properties. We have to monitor what takes place to ensure that the integrity of gaming in the The Bahamas is sustained," said Mr Wilchcombe.