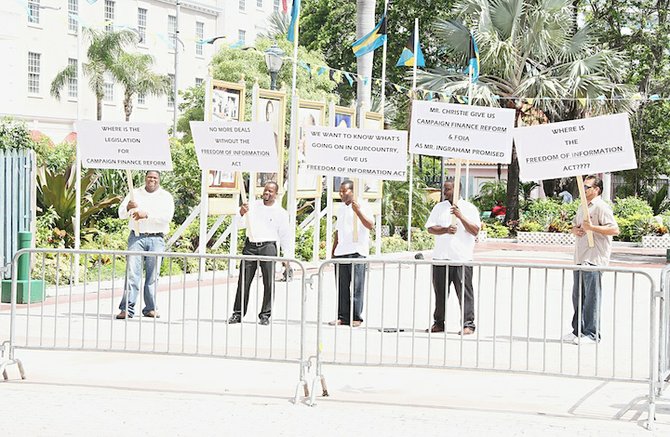 A STORY of how one civic action group is using social media to drive public awareness on national issues.
Forward, Upward, Onward, Together.
These familiar inspiring words which appear on The Bahamas' Coat of Arms herald the direction and manner in which the Bahamian nation should move.
This motto is also the name of a progressive civic action group that has two nationalistic discussion forums on social media giant Facebook's website; Forward, Upward, Onward, Together (FUOT) and Straight Up Talk: No Spin and Absolutely No Crossfire. The purpose of both forums is to prod the minds of the average Bahamian regardless of party affiliation to freely and respectfully express their views on national issues.
The group's vision is to "mobilize a united people to hold the first five estates in our democracy, the Executive, Judiciary, Legislative, Clergy and the Press accountable to their true masters, the Bahamian people." And while participants of the group may be divided in some of their views, the group's intent is to foster unity "for the purpose of advancing the Bahamas for the benefit of Bahamians."
The group features persons from many walks of life; there are young adults who are concerned with their country, adults who are troubled about the sustainability of the Bahamas that will be left for their children and those older and wiser ones who have seen and in some cases experienced much of The Bahamas' last 40 years as an "independent nation" and are dismayed at an apparent lack of progress.
This diverse group from a myriad of backgrounds is forging a relationship with each other based on a common love of country and it is all happening through the power of social media.
FUOT, since its inception, has grown along with its sister discussion forum (Straight Up Talk) to over 2000 members, with many engaging in the conversations on national issues.
But FUOT is not simply talk. The group has come together to stand publicly for issues of importance. On August 7 a small group of determined members took to Rawson Square to let their voices be heard on the Freedom of Information Act.
Among the many issues the country faces the Freedom of Information Act (FOIA) is a necessary piece of legislation for the deepening of democracy in The Bahamas. The group is adamant that FOIA is the linchpin to creating greater accountability and transparency for the business of the country.
Also, freedom of information is a noted necessity for a member state in the United Nations Convention Against Corruption of which The Bahamas is seeking accession, so not only are many Bahamians watching and anticipating the enactment of this important legislation, the world is watching too.
Of course this along with Campaign Finance Reform Legislation, the formation of an Ethics Committee and an independent Boundaries Commission would go even further in deepening our democracy and lead to the press and public's ability to hold members of government accountable with serious consequences for members of government found culpable of any impropriety.
FUOT believes that access granted through a proper FOIA will lead to a better understanding of the state of the deals that govern our natural resources such as salt, aragonite, aggregate, fisheries and possibly oil. Presently what is known about these resources is that The Bahamas gets very little in return from the natural resources that are extracted from the country.
For example; Aragonite, which is a natural occurring resource that is mined from a man-made island south of Bimini called Ocean Cay and is considered among the purest in the world, aragonite whole sales for approximately $350 to $500 per metric ton on a global scale, yet according to sources The Bahamas government receives a royalty of $2 per metric ton, with less than $50,000 in royalties annually reflected in the National Budget. The 95-acre cay is also leased at $7,500 per year.
The belief is that multi-billion dollar industries like aragonite, salt and aggregate can be made to benefit and empower Bahamians and bolster an economy that is far too dependent on one industry; tourism. There could be vast opportunities from mining, to processing, to manufacturing and retailing locally and abroad.
In light of where we are as a nation, and the need to build the economy through the empowerment of Bahamians it is incumbent upon the nation to reform and modernize the education system. The group believes priority should be placed on developing human capital. Many administrations have played lip-service to advancing education in The Bahamas without significant results.
In the modern world with myriad advances in science and technology Bahamian students tend to lack the knowledge to be able to be competitive. On the reverse end of this issue, Bahamians who go away and do acquire significant knowledge and skills often remain outside where there are more and better opportunities.
FUOT tackles these and many more issues and topics with the view to creating better awareness and deeper insight that leads to solutions. As the group envisions that as it develops and receives more participation from a greater number of Bahamians they will be able to produce articles, proposals and publications that highlight solutions to national issues.
There are certainly many issues the country faces and it is believed that greater participation from all Bahamians focused on the issues and not on politics will lead to pragmatic and actionable solutions and create a better Bahamas.
Real change begins and ends with we the people, Forward Upward, Onward, Together!
• In an article dated Thursday, August 8, The Tribune, inter alia, mislabelled FUOT as a "fledgling political group" in a story about the demonstration held concerning the enactment of the Freedom of Information Act the day before at Rawson Square. In response the group wants it made clear that national interests are always at the heart of all that it stands for; not political interests. "We simply are nationalists seeking common sense solutions to issues that affect all Bahamians regardless of political persuasion, race, gender or creed.