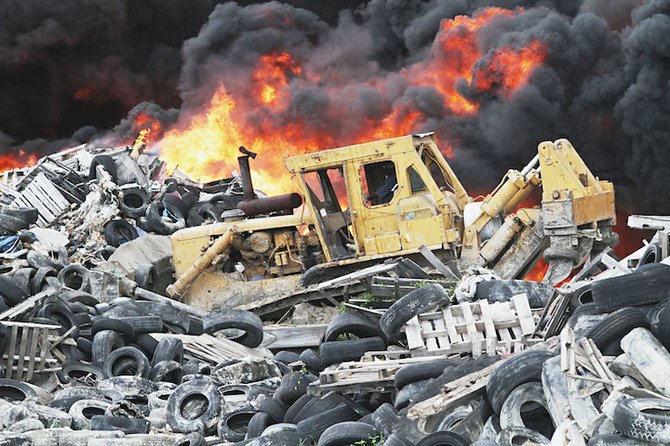 By DANA SMITH
Tribune Staff Reporter
dsmith@tribunemedia.net
THE Tuesday afternoon blaze at the city dump off the Tonique Williams-Darling Highway has been reduced to a "smouldering phase" but is expected to go on for days according to fire chief Walter Evans.
The fire had sent heavy plumes of black smoke into the sky as flames were fed by thousands of tyres and pallets at the dump.
Supt Evans, director of Fire Services, said the fire is "still going on" but has been greatly minimised and efforts are being made to put it out completely.
"A number of heavy duty tractors, along with water trucks, are being used at the site," he said.
"There has been some loss. There's been some utility poles and some power lines that have been lost – along with cable."
However, Supt Evans said the fire posed no major threat to surrounding communities.
When asked how much longer he expects the fire to burn, he said: "We couldn't say exactly because it depends. You are dealing with different heats; there are different heats with tyres and so one will take a little bit longer than the other. We will have to monitor to see but it definitely won't be today or tomorrow."
The fire is believed to have been sparked sometime around noon, according to Department of Environmental Health Services employees. The exact cause of the fire remains unclear.
Environment Minister Kenred Dorsett was at the scene and said Cabinet is currently considering a proposal that could prove to be the solution to several long-standing city dump issues.
The minister would not go into detail, only offering that when Cabinet approves it, the public will learn "all about the solution."
He said: "The sooner we move ourselves to where we transform this into what I call a green park, where we mind these landfills ourselves and move the hazardous waste here and get this environment in a manner where it will not subject us to this kind of nonsense, the better."
The dump has been plagued by recurrent fires for years. The most recent dump fire, not including Tuesday's, started four months ago in April.
Officials struggled to get a handle on that fire, which smouldered for weeks.