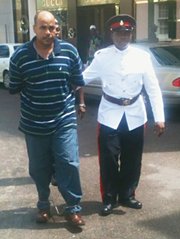 A MAN sentenced to death for murder more than two decades ago appeared in Supreme Court yesterday for re-sentencing.
However, an issue arose over whether or not Cyril Darville began his sentence in 1997 or 2006, prompting Senior Justice Jon Isaacs to adjourn the proceedings.
The adjournment is to allow prosecutor Ambrose Armbrister to research the particulars of the matter, which was originally being dealt with by Vernal Collie and Ralph Munroe, who were unavailable for yesterday's proceedings.
Dorsey McPhee, Darville's attorney, did not object to the adjournment.
Darville was sentenced to death in August 1992 for a shooting homicide in 1990. His appeal to the Court of Appeal was dismissed on 4 October 1994.
He was slated to be hanged in March 1996 after the Advisory Committee on the Prerogative of Mercy found that clemency should not be granted in his case.
However, his execution was stayed and he has been behind bars since until June 6 of this year when the matter came before the judge but was adjourned to yesterday.
Darville will reappear before Senior Justice Isaacs on September 3.