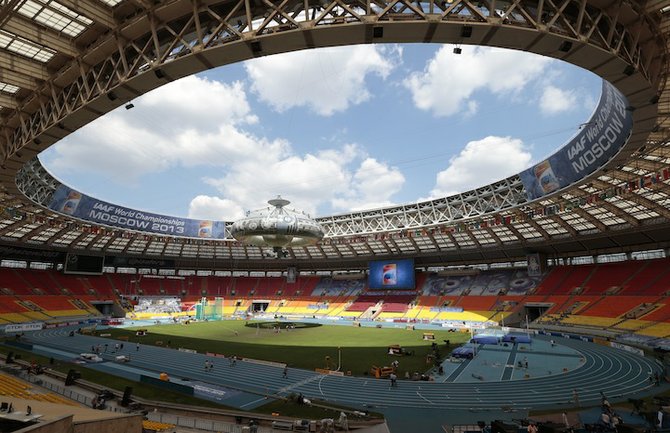 By BRENT STUBBS
Senior Sports Reporter
bstubbs@tribunemedia.net
NOW that the curtains have come down on the 14th IAAF World Athletics Championships in Moscow, Russia, it's time to put the performances of the Bahamas' 27-member team into perspective.
Today, as we turn back the hand of time to the nine-day competition that took place August 10-18 at the Luzkniki Grand Sports Complex, we put a grade from A to F for each athlete and relay team performances.
A - average of 100-80
B - average of 79-60
C - average of 59-40
D - average of 39-20
F - average of 19-0
Men's 4 x 100m relay team - C
The team of Adrian Griffith, Warren Fraser, Jamial Rolle and Shavez Hart had to settle for a sixth place finish in their heat in 38.70. The time was posted as the 14th overall. However, while the team failed to get into the final, it was recorded as a national record. Had they gotten into the final, the team would have needed to lower the national record again to be a contender as the seventh place went in at 38.57 by Trinidad & Tobago. The gold went to Jamaica in a world leading time of 37.36.
Women's 4 x 100m relay team - B
The effort by the quartet of Sheniqua 'Q' Ferguson, Shaunae Miller, Cache Armbrister and Debbie Ferguson-McKenzie was one of those feats that was talked about after the final was won by the Jamaicans in a championship record of 41.29. Had Ferguson not stepped on the line running around the first curve, the Bahamas would not have been disqualified and their time of 42.72 would have put them into the final with the fourth best coming out of the qualifying round. Their time, thanks to the sterling anchor leg by Ferguson-McKenzie, was faster than the United States' time of 42.75 for the silver. If only the team had not been disqualified, the Bahamas could have easily secured its only medal.
Men's 4 x 400m relay team - C
Give credit to Wesley Neymour, LaToy Williams and O'Jay Ferguson, who stepped in and competed with Chris 'Fireman' Brown in the absence of three injured members from last year's team that won the Olympic Games gold medal in London, England. But after getting the team off to a great start as he did a year ago, Brown didn't get the effort as he did with Demetrius Pinder, Michael Mathieu and Ramon Miller. It's hard to compare, but as the reigning Olympic champions, the Bahamas didn't stand a chance with 3:02.67 for fourth in their heat and 13th overall in the heats. The United States rebounded to regain their prominence with a world leading 2:58.71 for the gold.
Women's 4 x 400m relay team - D
Aymara Jones, Lanece Clarke, Shekeitha Henfield and Cotrell Martin proved that they are capable of running on the global scene. But based on their time of 3:32.91, they had to settle for fourth in their heat and that was only good enough to place them 12th overall. The time would not have gotten them a place in the final after Romania did a season's best of 3:28.40 for seventh place. Italy was disqualified. Russia won in a world leading time of 3:20.19.
Jamial Rolle - men's 200m - D
Although he beat out about 10 competitors, Jamial Rolle only managed to clock 21.40 for seventh place in his heat. That placed him 44th overall. He was nowhere in contention for a shot at coming back for a second round in the semifinal. All but one of the competitors dipped under the 22-second barrier. As for the final, Usain Bolt took the tape in a world leading 29.66.
Shaunae Miller - women's 200m - A
This, by far, had to be the cream of the crop for the Bahamas. At 19 years old, Shaunae Miller took advantage of her 400m background to race to an impressive fourth place in 22.74. Not a SB or personal best, but fast enough to turn a lot of heads about her future potential. The national junior record holder found herself in a position that nobody likes to be in - looking out on the podium that had Jamaican Shelly-Ann Fraser-Pryce wearing the gold in 22.17, Ivory Coast's Murielle Ahoure the silver in 22.32 and Nigeria's Blessing Okagbare the bronze in 22.32.
Anthonique Strachan - women's 200m - B
Coming out of the first round, Anthonique Strachan seemed poised to join Shaunae Miller in providing the Bahamas with a 1-2 punch in the final. But for some reason, Strachan was not as crisp as she should have been and didn't have the zap needed to move on. Her time of 22.81 left her out in the cold after she got fourth in her heat and ninth overall, just losing out by a 10th of a second as the eighth and final qualifier with 22.80.
Nivea Smith - women's 200m - C
For someone who wasn't supposed to be running anymore, Grand Bahamian Nivea Smith made a fantastic comeback to qualify to compete in the meet for the second time. However, she didn't have the zap as she tried to shake off the rust. Her time of 23.25 was good enough for fifth place in her first round heat and 27th overall. Atleast Smith can say she's back and she can be inspired as she works on getting back at full strength for next year.
Donald Thomas - men's high jump - B
With a chance to go for broke, Donald Thomas attempted to upset one of the most talented fields assembled in quite a while in the men's high jump. His gamble almost paid off, but he missed all three tries at 2.38 metres or 7-feet, 9 3/4-inches and had to settle for sixth place with his SB of 2.32m (7-7 1/4). The competition was so intense that world leader Bohdan Bondarenko of the Ukraine also put everything on the line when he went after the world record of 2.46 (8-0 3/4), but he ended up clearing 2.41m (7-10 3/4) for the gold.
Ryan Ingraham - men's high jump - B
If they didn't hear about his name before the competition, Ryan Ingraham made his presence felt by soaring into the final of the men's high jump, giving the Bahamas a 1-2 punch for the second straight biennial championships. His best leap of 2.25m (7-4 1/2) placed him into a two-way tie for 10th place. He got over the opening jump of 2.20m (7-2 1/2), but missed out at 2.29m (7-6). Not bad for another 29-year-old who can take comfort in the fact that the sky is the limit when it comes to his future.
Jeffery Gibson - men's 400m hurdles - C
Having drawn lane one for both his first round and semifinal of the men's 400m hurdles, Jeffery Gibson struggled to run with the pack in both races. He did 50.51 for last place in his semifinal and 21st overall. He ran faster in 50.25 for fourth place in his heat and 27th overall in the first round. The new national record holder would have needed to run an amazing 48.35 to at least knock Emir Bekric from the eighth and final spot after he ran 48.36 for a national record for Senegal for the eighth and final spot in the final.
Chris 'Fireman' Brown - men's 400m - B
It wasn't one of his best showings and that may have been hampered by the energy he put into staging his inaugural Chris Brown Bahamas Invitational in April at the Thomas A Robinson Track and Field Stadium. In a gallant effort, Brown produced a SB's of 45.18 for third place in his semifinal heat and 10th overall. The eighth and final qualifier was Anderson Henriques from Brazil in 44.95. The final was won by American LaShawn Merritt in a world leading 43.74 as Grenada's Kirani James faded into seventh in 44.99. All but Henriques didn't go under 45 when he got last in 45.03.
Ramon Miller - men's 400m - D
Not until he started running was it evident that Ramon Miller was not 100 per cent. He literally just tried to make it around the track, finishing last in his heat in 49.53, but moved up to fifth after two competitors got DQed. Miller finished 29th on the chart.
LaToy Williams - men's 400m - D
Having had a chance to finally compete in his first individual event in his second trip to the championships, LaToy Williams could only run 46.65 for sixth out of seven competitors in his heat. He felt the fatigue from the long season which took its toll on his performance as he was 27th on the chart. Shouldn't be any excuse when you get to this level. This is where you want to be at your peak.
Shavez Hart - men's 100m - C
The apparent heir to the men's sprinting corp may have been overwhelmed in his debut at the global level as he could only muster a 10.36 for sixth place in his heat. It was only good enough to give him 36th overall. If there's any consolation, he knows that there's a lot of work ahead of him to be a contender.
Sheniqua 'Q' Ferguson - women's 100m - C
It wasn't one of her greatest performances, but after running 11.33 for third in her heat, Sheniqua Ferguson moved on to the semifinal as the 19th fastest qualifier. She tried to make amends in the semis, but ran a little slower in 11.35 for sixth in her heat and she didn't move on to the final. She ended up tied for 16th in the rankings.
Cache Armbrister - women's 100m - C
Her time of 11.55 for sixth place didn't get Cache Armbrister a lane in the semifinal. She was pegged at 30th. But remember, Armbrister is a 400m specialist, who only moved down to the 100m because her coaching staff in Jamaica where she now trains didn't think she had put in sufficient time to get ready for the longer event. Will have to wait and see how things unfold for her next year if she remains in the camp that is headed by Usain Bolt and Yohan Blake.
Bianca 'BB' Stuart - women's long jump - C
As the lone female field competitor, Bianca Stuart had to carry a whole load on her shoulders. She didn't get out of the qualifying round, leaping just 6.35m or 20-feet, 10-inches to place her 24th out of 31 competitors. She would have needed to jump at least 6.57m (21-6 3/4) or better to get into the final. American Brittany Reese did that for the 12th and final spot, but in the final, the defending champion stepped it up to claim another gold with 7.01m (23-0). It tells you just how tough the competition was.
And despite the fact that for the first time in 20 years the Bahamas didn't win a medal, finishing 30th out of a field of more than 200 countries ain't that bad. As a result, I would give Team Bahamas a C grade.
Note: It's one thing to be registered, but it's another when you don't get to compete. No explanation was given for Michael Mathieu's absence from the first round by the team officials. In fact, it wasn't until inquiries were made that it was discovered that Mathieu was injured. It would have been good to see how the national record holder would have matched up with the field.