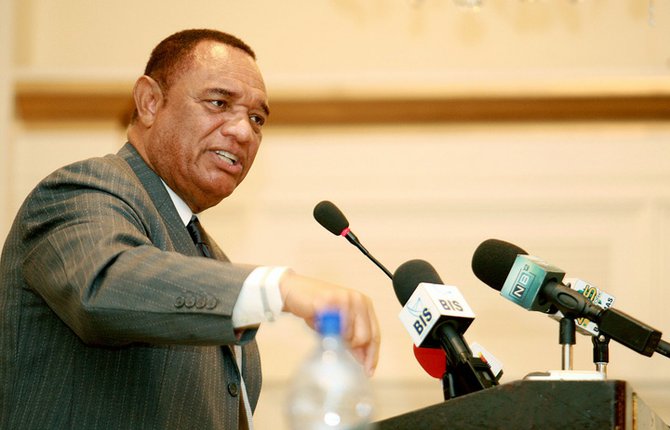 By KHRISNA VIRGIL
Tribune Staff Reporter
kvirgil@tribunemedia.net
PRIME Minister Perry Christie says Opposition leader Dr Hubert Minnis will 'pay a political price' for claiming there was a cover-up over the alleged abuse of Cuban detainees in the Bahamas.
The PM also said he wished the Bahamian authorities' probe into the claims had happened sooner because the country was 'suffering as a result of it.'
Mr Christie spoke out after Dr Minnis, FNM Leader, said there had been a 'fully-fledged cover-up' after allegations were levelled that detainees were abused while they were being held at the Carmichael Road detention centre.
Mr Christie said yesterday the government had nothing to hide in getting to the bottom of what happened at the centre.
He echoed comments by Foreign Minister Fred Mitchell, who said an investigation had been launched into the claims and when it is complete, 'the government will act.'
Mr Christie said yesterday: "Dr Minnis just did something that was never done. I have had 40 years in public life. Dr Minnis purported to call me corrupt and you are asking me about what I think about him? I am going to ensure that the price he pays is a political one and the right one.
"I have said over and over and over there is nothing to hide, nothing at all. To me it is an amazing kind of allegation from Bahamians to say that we are sitting here covering up something that will cause the country embarrassment.
"But the investigation, I wish it had happened sooner. I wish it was much more quickly executed because we are suffering as a result of it."
Mr Minnis said earlier in the week that the FNM found out that on May 20 there was an attempted escape from the detention centre by seven Cuban detainees.
This escape was prevented, he said. As punishment for the attempted escape, at least five detainees were physically abused to a severe degree, he claimed.
The abuse was so significant that three of the detainees had to be taken to Princess Margaret Hospital for treatment, Minnis said.
One person was detained and two others returned to the detention centre.
Following the beatings, said Mr Minnis, the remaining detainees performed and videotaped a reenactment of the earlier beatings.
Mr Christie chastised the FNM for making serious statements regarding the treatment of Cubans at the centre before the government investigation was completed.
"It arms people abroad who do not have access to the facilities, who do not have access to us, who have not asked us to give an explanation to them, but they have drawn a conclusion that we are being cruel.
"I dispatched my ministers of Foreign Affairs and National Security to meet with the Foreign Minister of Cuba to have one-on-one talks with him with respect to having in place an understanding similar to what the Americans have.
"When the Americans pick up Cubans on the high seas and on international waters they keep them on board the boat until they can put them back into Cuba. 
"When we pick them up we bring them here to the detention centre. We run the risk then of being criticised by not giving them the level of comfort that their counterparts or their relatives or their friends would wish them to have. So we are in a no-win situation in the Bahamas."
Over the past few months since the abuse claims emerged, and a number of Cubans have been deported, the Bahamas government has faced protests from Cuban groups in South Florida, Amnesty International and others.