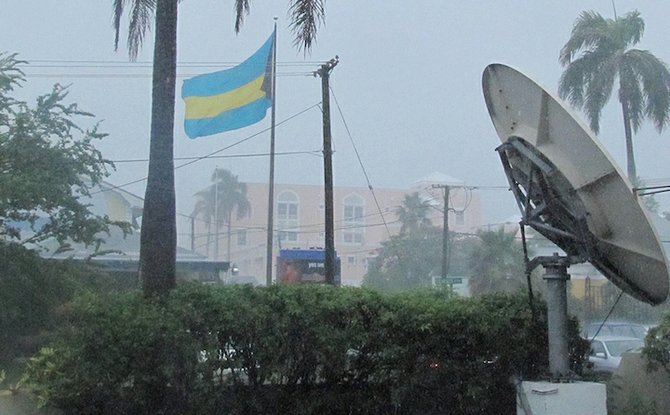 HEAVY rain is lashing New Providence this afternoon as a major thunderstorm hits.
A near stationary mid to upper level low pressure system across South Florida is helping to generate shower and thunderstorm activity across the Northwest and Central Bahamas today.
Meanwhile a weak tropical wave is to enter the Southeast Bahamas by this evening.
Weather for the Northwest and Central Bahamas: Mostly cloudy with widely scattered showers and isolated thunderstorms mainly across the Northwest Bahamas.
For the Southeast Bahamas: Partly sunny, a bit breezy and hot today with a slight chance of isolated showers or thunderstorms. partly cloudy tonight with isolated showers and thunderstorms.
Extended outlook: A weak tropical wave will continue moving westward across the islands while a ridge of high pressure attempts to build westward across the area.
Forecast for Saturday: A mix of sun and clouds with isolated showers and thunderstorms.
Forecast for Sunday: Mostly cloudy with isolated showers and thunderstorms
There are two weatherfronts to look out for over the next few days:
A broad area of low pressure associated with a tropical wave over extreme western Africa is producing showers and thunderstorms. Environmental conditions appear conducive for development…and a tropical depression could form over the next couple of days.
A tropical wave located about 850 miles east of the Lesser Antilles is producing a large area of disorganized cloudiness and showers over the central Atlantic Ocean. This wave is forecast to move westward into a region where the upper-level winds are not particularly favourable for development.