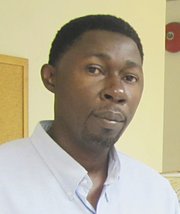 By RASHAD ROLLE
Tribune Staff Reporter
rrolle@tribunemedia.net
There has been a call for executives of the Bahamas Hotel Catering and Allied Workers Union to resign for failing to present to the Bahamas Hotel Employers Association a proposal in time for a new industrial agreement.
This failure could cause up to 6,000 hotel workers to be denied increased benefits for at least another few years, David Beckford, a former union shop steward and union president candidate, said yesterday.
His comments come amid a continuing feud between the Bahamas Hotel Catering and Allied Workers Union (BHCAWU) and the Bahamas Hotel Catering and Allied Workers Union (BHEA) over extending their existing industrial agreement without amending it as the BHCAWU missed the deadline to provide the BHEA with its counter proposal.
Mr Beckford said the hotel union, led by Nicole Martin, "slacked off" on its responsibility while leading its members to believe the BHEA simply doesn't want to give hotel workers more benefits.
The expired industrial agreement between the two parties stipulated that the BHCAWU had to submit a proposal to the BHEA 90 days before the agreement expired in January.
But by the time the agreement expired, the BHEA had still not received a proposal.
Following this, the BHEA last month served the BHCAWU with a Supreme Court summons to extend the existing agreement without amending it.
Although Mr Beckford, who works at Atlantis, insisted that he does not support an extension of the agreement, he felt the leaders of his union should resign for creating the situation that could prove costly to its members.
"Workers from Sheraton, Wyndam, Atlantis, Lyford Cay, Hilton and others are all under this master agreement," he said. "Our union is the recognized bargaining agent for all hotel workers and it is very unfortunate and very sad to see that this union administration has failed to submit the proposal amendments for a new industrial agreement in time, especially considering that the 90-day period clause for doing so has been in all our industrial agreements for the past 20 years. By them not submitting a proposal, it has put us workers in a difficult position. That contract determines the conditions of our work. It determines increases in wages. Because the proposal was not sent in when it was supposed to be sent in, there is a possibility now that we may have the same contract for another three years and there will be no increase in wages for workers. That will negatively impact us because the cost of living is going up. National insurance contributions have gone up and the government is considering implementing VAT; so while the cost of living is going up our salaries are going to remain the same. Never in the history of this union has this happened."
Mr Beckford called on BHCAWU leaders to inform its members about why it failed to release a proposal in time.
"When they ran in 2009, they said that the administration that preceded them negotiated the worst contract proposal ever, yet look at what they are now doing," he said, adding: "They should've released a proposal from October last year. The workers at Atlantis are very disappointed at the fact that we may not get any increase in wages or backpay and no new contract."
He added: "The union is giving the impression that the employers don't want to negotiate or give benefits. I'm in no way on the side of the employers, but the facts are the facts and we deserve to know why our leaders failed to do their job. Regarding the case before the court, I hope the court somehow takes into consideration hotel workers who were hoping for an increase in wages and back pay, but in my experience the court rules on law and the union in this situation is in the wrong so I don't know if we will see a favourable outcome in this situation. Our leaders could've hired persons to assist them on creating the proposal because that should be the most important thing for them to have to do. It's what they campaigned on. "