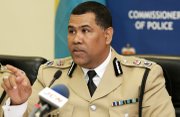 By AVA TURNQUEST
Tribune Staff Reporter
aturnquest@tribunemedia.net
INVESTIGATORS are making "extremely good progress" into the armed robbery of acting Prime Minister Philip "Brave" Davis and his family, Commissioner of Police Ellison Greenslade announced last night.
Mr Greenslade said police did not have anyone in custody for questioning over the armed raid at Mr Davis' Westridge Estates home on Monday.
Yesterday, cabinet ministers addressed the implications of the security breach, and expressed concerns over personal safety, and the need for heightened security measures at public offices.
Agriculture Minister V Alfred Gray called for enforcement of the death penalty to send a stronger message to would-be criminals.
Offering up his personal opinion on the state of crime, Mr Gray said the government should reconsider the Privy Council's position as the country's final criminal court.
"We can no longer think of the Bahamas as this quaint little city with these thugs running around the way they are and a statement needs to be made," he said.
Minister of State for Transport Hope Strachan said that the robbery should be used as a lesson that the country could not remain divided on the crime issue. Mrs Strachan said she did not think additional security detail was necessary for ministers, but underscored the need for heightened vigilance. She added that crime must be depoliticized.
Minister of State for Legal Affairs Damien Gomez said he remained fully confident in law enforcement agencies, adding that improvements to the court system will significantly impact crime levels.
Mr Gomez joined Mrs Strachan in support of increased security at the House of Assembly.
Mrs Strachan said: "This speaks more to the issue of what it means to us as a country. Mr Davis is the acting prime minister and is the head of our country at this particular point in time and to know that we have persons who are bold enough to actually enter his premises and hold him at gunpoint has to be a big concern for us as a nation, in terms of all of our safety.
"It's an incident that highlights the social conditions existing at the time," she added.
The incident has renewed criticism over the politicization of crime problems, most notably during the 2012 general election.
Defending election campaign tactics, Mr Davis said: "I'm in politics, I'm a PLP politician. There are FNM politicians, the lines are drawn there's no doubt about that. What we were pointing out is that at the time they were doing nothing about (crime). What is political about it is what they were doing, not that crime itself or the scourge of crime was a PLP or FNM particular problem.
He said: "What we were criticizing was the manner in which they were going about addressing the issues, and that will be political.
"Politics is divided and defined by the way we do things and how we don't do it, that's what separates us from each other. I think you will recognize that despite the unacceptable level of crime you can see that we have been making some improvement in that area."
Police issued dramatic footage showing two of the three robbers and the vehicle used in the high-profile armed raid on Monday.
Anyone with information that may assist investigations are asked to contact police at 911, or 919, the Central Detective Unit at 502-9991 or Crime Stoppers anonymously at 328-TIPS.