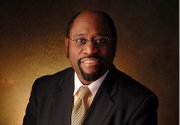 By AVA TURNQUEST
Tribune Staff Reporter
aturnquest@tribunemedia.net
RELIGIOUS leaders were up in arms yesterday over claims that recent amendments to the Sexual Offenses Act have essentially outlawed marital rape.
Speculation over Marco's Law amendments led Dr Myles Munroe, Pastor of Bahamas Faith Ministries, to send an email to local colleagues requesting their close attention to the matter.
A collective of pastors also threatened to protest outside the House of Assembly, according to Minister of National Security Bernard Nottage, who blamed the would-be demonstration on misinformation.
The email, obtained by The Tribune, purported to have been sent on Wednesday by Dr Munroe read: "This is a very important issue as it could have far reaching affects – I am referring only to the marital bill aspect.
"This is very complicated and should be carefully approached covering all aspects of the implications and consequences."
Dr Munroe would have written the email from South Africa, where he was attending memorial services for anti-apartheid icon Nelson Mandela.
The email continued: "I hope the members of the Christian Council and church community respond and engage the government on this matter."
Yesterday, Bahamas Christian Council President Rev Dr Ranford Patterson declined to comment until he had fully reviewed the legislation.
Dr Patterson was among several religious leaders copied on the email purported to have been sent by Dr Munroe.
Among pastors copied were: Bishop Neil Ellis, Mount Tabor Church; Pastor Lyall Bethel, Grace Community Church; and Pastor Mario Moxey, Bahamas Harvest Church.
A heated national debate was sparked after a marital rape Bill was introduced to Parliament by Long Island MP Loretta Butler-Turner in July 2009.
At that time, Mrs Butler-Turner noted that Bahamian law was outdated as spousal rape had long been outlawed in many other countries.
Since then, human rights group Amnesty International vowed to back the amendment of the Sexual Offences Act to protect the rights of every Bahamian woman.
Section 3 of the Sexual Offences Act, defines rape as having sexual intercourse with another person who is not a spouse without the consent of that person.
Section 15 of the Sexual Offence Act outlines the conditions necessary for a person to be found guilty of sexual assault by a spouse.
It states: "Any person who has sexual intercourse with his spouse without the consent of the spouse — where there is in existence in relation to them — a decree nisi of divorce; a decree of judicial separation; a separation agreement; or an order of a court for the person not to molest or co-habit with his spouse, or any other order made under decree of judicial separation; or where the person has notice that a petition for judicial separation, divorce or nullity of marriage has been presented to a court, is guilty of the offence of sexual assault by spouse and liable to imprisonment for a term of 15 years."