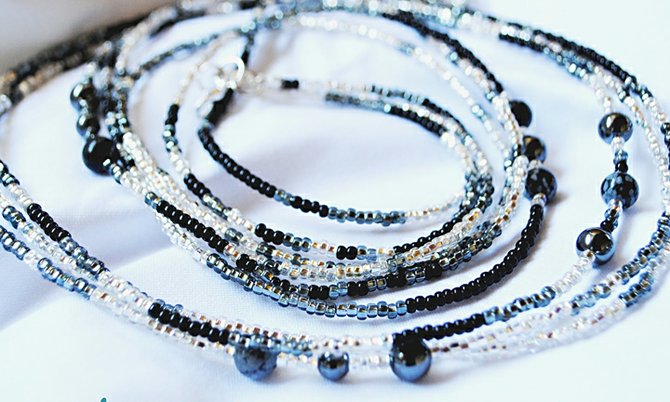 By ALESHA CADET
Tribune Features Reporter
acadet@tribunemedia.net
UNDER THE Khepera's Sun Jewellery line, Bahamian designer Xan-Xi Bethel is set to launch a new collection of adult oriented jewellery known as "Succulent Secrets Intimates".
The line includes ornamental nipple rings or "nipplets", waist beads and body beads/chains. Xan-Xi will launch the collection on Saturday at a Delancey Towne Bed and Breakfast event, 2-6 pm.
"The history of waist beads dates back to ancient Khemit. Also, many West African cultural groups still wear waist beads for beautification and healing. So my inspiration for the line came from my love of waist beads, and the 'nipplets' were inspired by a customer who requested a pair," said Xan-Xi.
Leaving "the conservative stuff" to others, Xan-Xi said her personality is bold and exciting, and so is her jewellery. Succulent Secrets is her most adventurous collection yet.
"At my core, I am a star and I am just trying to do what I was born to do, shine. I see this line going to the moon and back and I will allow the jewellery to go where it wishes, on its own natural course. Thus far the feedback on the Intimates Collection has been phenomenal. What woman doesn't love to adorn her body in beautiful jewels?" said Xan-Xi.
The Saturday launch will also feature designs from Ria Georgina and Olivia Russell, a Kemetic Yoga Demonstration by Carla Campbell, make overs by William Moultrie and sizzling poetry performed by Lyn Pierre. A $20 donations will be collected.
"This event is spearheaded by The Sweet Shop, a budding consignment boutique. This is the first in a series of bimonthly events geared toward exposing the designers and products that will be featured in the boutique," said Xan-Xi.
"Superb makeup artist, William Moultrie will be doing make overs and tutorials. Hope Johnson of Soaps by Hope will be displaying her line of luxury handmade body products. In addition we will have a extra special succulent performance by Lyn Piere. She's a fantastic Bahamian performance poet. To top it all off, 'Da Bahamian Vegan', Chef Gio Cooper will be offering delectable bites and specialty drinks all day," said Xan-Xi.
She encouraged her supporters to look for Khepera's Sun everywhere next year, as she has an exciting year planned. The Spring and Summer Collections are already in production. Also, for the winter collection 2014 Khepera's Sun will be launching a collection in silver and gold," said Xan-Xi.
Almost two years ago, Xan-Xi embarked on her journey to create Khepera's Sun, a handcrafted line that embodies the "creative energy in each of us."
It was always an aspiration of Xan-Xi's to start her own jewellery line; however it was not until studying at the University of the West Indies, when she decided to explore jewellery making as an avenue for creative expression.
Xan-Xi then went to the drawing board and started creating statement pieces that invoked the positive energy within a women. Since the launch of Khepera's Sun, Xan-Xi said business has been steadily growing.
For more information on Khepera's Sun and the Succulent Secrets Intimates line, log on to www.kheperassun.com.