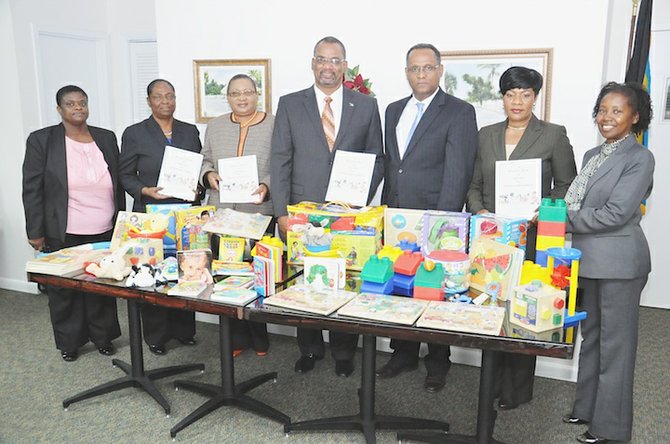 BY DENISE MAYCOCK
Tribune Freeport Reporter
dmaycock@tribunemedia.net
FREEPORT – A special project for children under the age of three was launched on Grand Bahama by Minister of Education Jerome Fitzgerald.
New research has found that the first 1,000 days are the most critical time in the development of a child according to a senior official at the Ministry of Education.
Recognising this, Mr Fitzgerald presented instructional materials for children ages 0-3 to the Minister of Grand Bahama Dr Michael Darville to be used in the Parent Outreach Programme.
Accompanying the minister to Freeport were senior education officers Agatha Archer, assistant director of education ECCE (pre-school); and Darryl Poitier, principal of St Bebe's Preschool.

Mr Fitzgerald said the project has been funded through a loan by the Inter-American Development Bank (IDB).
"It is my hope that infant and toddlers as well as their parents and caregivers will be exposed to a stimulating early childhood programme which has been comprehensively designed by officers in the pre-school section of the Minister of Education, Science and Technology," he said.
The minister said that the programme is designed to incorporate parents and caregivers of very young children.
"It is our desire and hope that parents and caregivers spend a few hours per week with their children and their neighbours' children, to expose them to both the academic and social skills provided in these resource materials," he said.
Mr Fitzgerald said the presentation was the culmination of an initiative that started nine years ago when the Early Childhood Care Act 2004 came into force under the leadership of then Minister of Education Alfred Sears.
Earlier this month, the standards and regulations to accommodate the Act were passed in parliament.

"We should all be cognizant of the fact that recent studies have shown that when countries invest in quality early education, children not only experience success in the classrooms but they also gain opportunities that provide positive payoffs for its citizens. The learning process should begin at a very young age and continue throughout life," he said.
Dr Darville commended the Minister of Education and senior education officials, for bringing the standards and regulations to parliament.
He stressed that childhood development from one to five years old is crucial.
During this time, he said, "neurological tracks are being developed and it is essential that we use evidence based methods of training to ensure that we developed them as rapidly as possible.
"I see GB evolving, particularly in the pre-school programme, and in years to come we will reap the benefits of what we are establishing here today.
"I am convinced we are on the right track by developing our pre-school programmes which are so essential… to the development of our young children mentally, physically and socially," he said.
Also bringing remarks was Alfred Sears, former Minister of Education.

He noted that in the first five years of life, millions of synapses are being formed in the brain.
Mr Sears said this period is the best time for learning.
"If an investment is not made during this period we will lose the opportunity to maximise the national development of our country.
"The millennium goals require only that we achieve universal primary education, but we if wait until five it is too late," he said.
More like this story