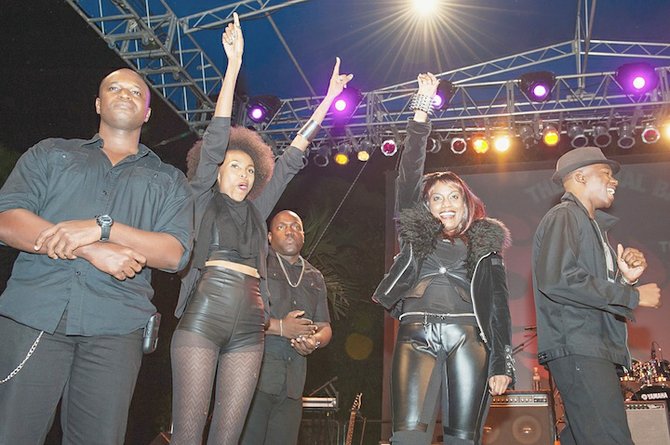 By ALESHA CADET
Tribune Features Reporter
acadet@tribunemedia.net
WITH JUST weeks left in 2013, In Ya Ear reflects on some of the most outstanding music highlights of the year. From the Caribbean Slide to the most recent Avante Guarden Global Battle of the Bands win, these artists made a memorable impact on the 2013 music scene this year.
Avante Guarden Wins GBOB
Avante Guarden walked away from last year's Global Battle of the Bands heart broken and disappointed after not advancing to the third round. This time the rock band redeemed themselves with lively performances that won the judges and audience members over. They are now the "Best Band in the Bahamas".
"Avante Guarden has great potential as a Rock Band. It's funny because what usually comes out of the islands is not Rock. So I think their journey can make a good story to tell. I am looking forward to what they can do on a world stage. I applaud the band because they are a wonderful group and they have good music that can potentially do well." Ricardo Berris, Chairman of GBOB Bahamas
Rat Pack at Miami's "Best of the Best" Concert
Members of the Rat Pack collective headed to South Florida for the largest Memorial Day weekend event, Best of the Best International Music Festival, held at the Bayfront Park in Miami, Florida last May. Bahamian artists Sammi Starr, D-Mac, Mdeez, and Sosa Man make up the musical conglomerate. Each artist performed a different genre of music: Rake & Scrape, Reggae, Hip Hop and R&B, respectively. Best of the Best is one of the largest Reggae, Hip Hop, R&B and Soca festivals in North America. The show is a 10 hour-long experience with some of the best live Caribbean and urban music performances. Sammi Starr was the first Bahamian entertainer to grace the stage during the 2010 Best of the Best event.
"When I did it in 2010, it was ground breaking because it was the first time a Bahamian singer was put on an international stage like that. In addition to that, this year was more prevalent in that we all took more of our indigenous Bahamian sound. It made more of a statement because all of us were there. We played Rake n Scrape over those huge speakers, stomped the roach and just represented. People may not have known the lyrics to the songs, but they danced along. It was huge for Bahamian music because it was more about our culture." Bahamian Singer and Producer Sammi Starr
Julien Thompson's Caribbean Slide
The Caribbean Slide went island wide and viral, going from a fun hip song to a dance routine well known to many. Many events, schools, socials and even the staff at Senor Frogs have taken on the energetic movement by Bahamian musician Julien Thompson. The song includes island dance moves like stomp de roach and the conch style. The upbeat track is a fusion of Junkanoo music and it is also a new sound for the artist, as fans know him for his slow, inspirational song "Believe".
"That track was ingenious man, and the way he executed it, he not only kept it local, but took it international as well. I think the song had a long life because of the dance. Even the local gyms adapted and took on the dance as a part of their exercise routines. It's an awesome track." Randy C, Hot 91.7 FM Radio Personality


4. Irate's "Stand Tall Riddim"
Artists featured on the Stand Tall Riddim produced by Bahamian soul musician Irate kept their positive messages alive with the release of a video medley. The Stand Tall Riddim video features a medley of songs including Irate's "Stand Tall", Peter Runks' "Brothers Keeper", DJ Counsellor's "Everything There Is A Season", DJ Chronic's "I'm From The Bahamas", and Jah Nyne's "Global Crisis". The project was released late last year under Irate's newly formed label Rising Sun Records. It was produced by DJ Frost. What has made the project so unique is the number of Bahamian artists featured on the riddim. Other artists with releases on the Stand Tall Riddim are Mr Yagga Yo, Aundre Motive, Raquel Oliver, Julien Believe, Mdeez, Papa Smurf, Jah Hem and Sammi Star.
"I think Irate's Stand Tall Riddim was excellent. Most Bahamian artists do remixes on a lot popular reggae 'riddims', but Irate did his own riddim and he reached out to other Bahamian artists and allowed them to produce songs on that riddim. What he has done speaks volumes and we will continue to work closely with him and support him." Xcitement, 100 Jamz Program Director.
Angelique Sabrina's Cable Bahamas Endorsement
Securing the contract to become the face of Cable Bahamas was a major milestone in the life of Bahamian teen sensation Angelique Sabrina. She joins the ranks of Bahamian Olympians, who have previously secured endorsement contracts from corporate Bahamas. In June of this year, Angelique teamed up with Cable Bahamas for a new promotional campaign. Just weeks after her high school graduation, the 15 year old sat with representatives from the company to sign a one year contract.
"Angelique Sabrina is a young, outstanding talent, with determination, an innovative style and a commitment to being the best at everything she does. These are all similar characteristics that drive Cable Bahamas as we continue to revolutionise technology, telecommunications and entertainment products in the Bahamas, so we see many parallels between who we are and who Angelique is," said David Burrows, Cable Bahamas Head of Marketing.