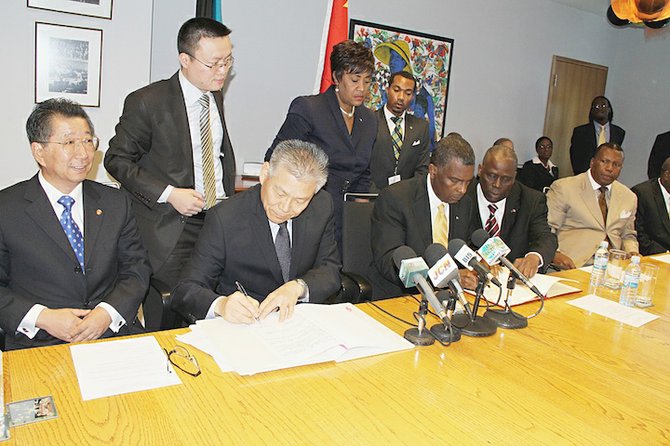 By AVA TURNQUEST
Tribune Staff Reporter
aturnquest@tribunemedia.net
VISA-free travel between China and the Bahamas was hailed as a "tremendous" step towards reducing the country's dependency on North American markets as officials signed a mutual agreement yesterday.
Underscoring the milestone in diplomatic relations between the two countries, Foreign Affairs Minister Fred Mitchell said he remained committed to creating a similar agreement with the United States of America.
"What I'm working on is the US," said Mr Mitchell, "that's a big one for us from my point of view. Every time I meet them, I'm on them. 
"If 358,000 Bahamians decided to move to the states tomorrow, it wouldn't make a difference to the population of the US, so I don't understand what the visa requirements are there for," he said. "So we're trying to work on that and you know that's a big nut to crack, but it remains an aspiration of mine to see whether that can be organised."
At the signing yesterday, China's Vice Foreign Minister H. E. Xie Hangsheng said the agreement evidenced the strong history of bilateral relations between the two countries, and signalled greater opportunities for increased trade and investment.
Expected to come into effect mid-2014, the agreement will continue indefinitely to allow citizens unrestricted travel without a visa for up to thirty days.
Mr Mitchell said: "The foreign policy of the Bahamas, from this minister, is to make it possible for seamless experience across borders for Bahamians around the world, and so getting a visa-free access to China is a huge improvement in that and adds to what we've already done."
Baha Mar senior vice president Robert Sands yesterday called the mutual visa agreement between the government and the People's Republic of China a bold and progressive move towards strengthening the tourist industry.
"We consider this an opportunity," said Mr Sands, "for Baha Mar, and the Bahamas to begin to penetrate that market, to populate our gaming industry here in the Bahamas, secondly (Chinese) propensity to travel to unique, new, diverse, and integrated markets is unprecedented.
"In terms of what Chinese visitors represent in terms of their spend, first off they stay longer. The average stay is maybe three to four times that of a typical North American visitor, secondly they will contribute to two sectors: they are great consumers of retail, and they are prolific gamblers. They also participate in a lot of environmental tourism.
"The value of that over an extended period of time is tremendous," said Mr Sands.