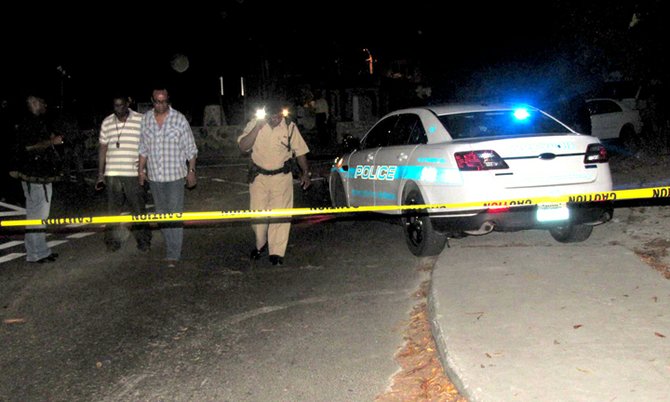 UPDATE: Police are requesting the public's assistance in locating two suspects in connection with the multiple homicide that occurred near the Fox Hill Park.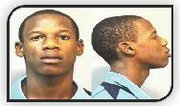 The first suspect is 27–year-old Amal Hunter, AKA "BOW" of Williams Lane off Kemp Road.
Hunter is described as a slim built male of a brown complexion, about 5' 10" in height.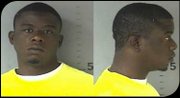 The second suspect is 25 – year old Carlos Colebrooke, AKA "SKULLER" of Williams Street, Nassau Village. Colebrooke is described as a medium built male of a dark brown complexion, about 5' 10" in height.
By CARA BETHEL and LAMECH JOHNSON
THREE men and one woman were killed "execution style" and four others were seriously injured in a drive-by shooting at Freedom Park in Fox Hill last night.
Police Commissioner Ellison Greenslade said the shooting occurred shortly before 6pm when the occupants of a small dark vehicle opened fire "with a variety of weapons" in the area just behind the basketball court.
"We are satisfied that this is the case, based upon the evidence we have discovered on the scene in terms of spent casing and projectiles," Mr Greenslade said.
"Unfortunately, as a result of gunfire, eight persons were shot and seriously injured, one adult male was killed at the scene, three others died at the hospital, two adult males and one female. This is very, very tragic for the community and the country. We have recovered the vehicle that was on the scene."
The Big T understands that one of the men who was killed was a member of the Davis family, owners of the Jungle Club which is located within the crime scene. Another family member is believed to be injured.
Mr Greenslade appealed to anyone with information to contact police.
The commissioner, who was accompanied to the scene by his entire executive team, said: "I am going to remain in Fox Hill tonight and we are going to ensure that these people in the community can go to their beds tonight despite the heavy grief on their hearts. We offer our condolences to the families affected by this senseless incident.
"We have to stop this. We have been arresting young Bahamian men, and in many cases women, until we are blue in the face, in possession of illegal firearms of many descriptions – pistols, handguns, AK-47s. And notwithstanding their arrests and taking them to court, many of these people are back in our communities reoffending. They seem not to be afraid of the system."
Mr Greenslade said that a line has to be drawn in the sand.
"And I really believe that we are going to have to do that tonight," he said.
"Unfortunately, we cannot bring these four people back, whom we have no reason to believe were doing anything wrong tonight. They were simply enjoying a peaceful evening which is their right to do, when people came into this community and left death in their wake. This is totally unacceptable in the Bahamas. This is totally tragic, and we are going to ensure with every ounce of my being that we pursue these people until we find them and bring them to justice."
Police said they cannot rule out that the shooting is not connected to the Boxing Day murder at Dorsett Street in Fox Hill where a man was hit with multiple bullets fired from a silver coloured four-door Honda.
Dozens of residents stood behind the crime scene tape in shock last night, expressing anger and despair as rumours circulated as to who the victims were. Many who learned that their loved ones may be among the dead screamed in anguish. Others expressed anger at the country's escalating violence and asked how such a deadly incident could occur in a peaceful community in the early evening.
The murder count for the year now stands at 116.