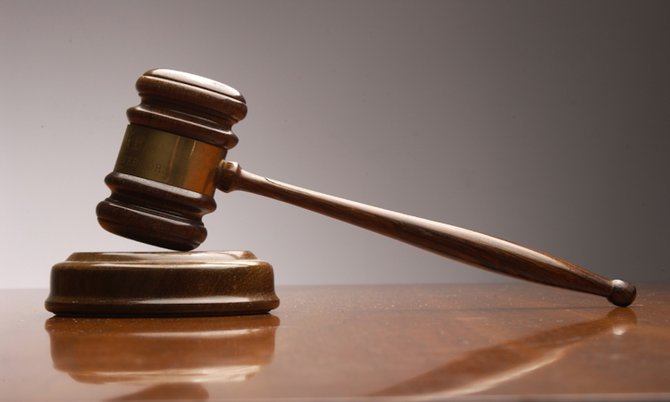 By LAMECH JOHNSON
Tribune Staff Reporter
ljohnson@tribunemedia.net
FIVE Androsian men were in the magistrates' court yesterday charged in connection with the disappearance and murder of an Immigration officer and his girlfriend in Andros.
However, 24-year-old Cordero Saunders of Central Andros, immediately claimed, when standing before Chief Magistrate Joyanne Ferguson-Pratt, that he could not been involved in the matter when there were records to prove that he complied with the same magistrate's directions to report to a police station in New Providence since September.
Saunders; James Johnson, 22, of Calabash Bay; Terrel Mackey, 26, of Central Andros; Daniel Coakley, 26 of Fresh Creek and Zwintorn Duncombe, 26, also of Fresh Creek, faced six criminal charges in yesterday's arraignment.
It was alleged that between November 24 and December 21, they committed two murders, two kidnappings, conspiracy to commit armed robbery and attempted armed robbery, with the victims of the crimes being Shane Gardiner and Tishka Braynen.
Braynen, of Cargill Creek, and Gardiner who lived in Love Hill, both in Central Andros, were reported missing around 1.45pm on November 24.
Mr Gardiner, an Immigration officer, was recently assigned to the island by his department in Nassau.
Gardiner's government-issued vehicle was cleaned and left little evidence or leads to be found when authorities made the discovery.
Police also found a bullet in the washing machine of Gardiner's home, where Braynen's car was parked.
On December 21, police discovered the human remains of an adult man along with "items related to a female".
However, due to the state of decomposition police are unable to positively identify the remains.
At yesterday's arraignment, prior to the charges being read to the accused men, Saunders spoke on behalf of himself as he was unrepresented.
He claimed that he was ordered by the Chief Magistrate, in September, to sign in at the Grove Police Station on Monday, Wednesday and Saturdays as a part of his bail condition. He added that the court had never issued a warrant of arrest for him to date.
Attorney Michael Kemp, who appeared for Mackey, placed himself on record for Saunders while Ian Cargill appeared for the remaining defendants.
Chief Magistrate Joyanne Ferguson-Pratt, made a note of Saunders' claim but told the accused it was an issue for trial.
She then read the charges after telling the defendants they were not required to enter a plea to them. Their case will be fast-tracked to the Supreme Court on March 6, 2014.
Before the men exited court, to be remanded, Mr Cargill raised a complaint that his asthmatic client, Johnson, was beaten in police custody to the point where he could not longer feel his left hand.
Johnson told the court officers allegedly placed half of his body in a body bag and placed a bag over his head while in police custody.
Mr Cargill also raised concerns about reports that two prison officers were relatives of the alleged female. He asked the court to assist with not placing his clients near where the officers worked in the prison.
The magistrate said the Prison Superintendent had the authority over where remand prisoners were placed.
Mr Kemp, in addition to supporting the concerns raised about security, also took issue with conditions at the prisons that the defendants would have to experience.
Mr Kemp also reiterated the importance of Saunders' alibi being documented.
The chief magistrate acknowledged counsel's submissions before remanding the men to prison.