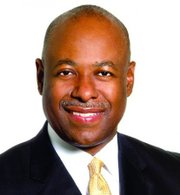 By SANCHESKA BROWN
Tribune Staff Reporter
sbrown@tribunemedia.net
OBIE Wilchcombe said yesterday he has begun a series of meetings with religious leaders and those with interests in gaming in an effort to reintroduce the discussion of web shop gaming in 2014.
Mr Wilchcombe, Minister responsible for gaming, said web shop gaming is "not off the table" and is still up for discussion - despite Bahamians overwhelmingly voting against the regularisation and taxation of web shops.
In fact, he said he has already met with several church leaders who have agreed to help him in his dialogue with other influential religious leaders.
"Nothing is off of the table; the referendum is off the table but the Minster can sign it in to law. We had a referendum that has obviously now taken precedence but it's now all about communication. The church has to understand what you are doing; we must appreciate no matter what we say in this country we are rooted in Christian values whether we like it or not we are and we can not disrespect what happened in that referendum. The Bahamian people voiced their opinion so now we have to create the dialogue and find the regulations that are acceptable to all," he said.
"I think it is important for the church to understand the complexity of the issue and for the church to understand that we have to govern and we will come and discuss with them and find ways to do it. The church might be able to advance some ideas on how it can be done but what we have to make sure you understand is that you cannot have a referendum one day and then tell the people the next day it didn't make sense having a referendum; you have to respect the wishes of the people and the voice of the people,  so we have to come back and find the right way to create dialogue.
"To be honest I have started that dialogue with various people. I have done a lot of research and have been taking to people about it. I have been taking to the government about it actually to recognise what is going on because a lot of these operators have gone to other territories to continue their business and open companies, major companies, and are doing very well and we cannot ignore that they exist."
Mr Wilchcombe said as Minister he can regulate web shop gaming but he thinks it is important to have a dialogue with the church and web shop operators to discuss how gaming with all parties.
He said: "I cannot ignore the fact that there are thousands of people participating in this every day and millions of dollars being made from the business every single day. Shouldn't some of that money, if it is going to happen, be used for sports, education and culture?  Let's find a way to do it. Even helping people who have become addicts and even helping the church in its development. There is a way it can work, it does make sense. We have had off-the-record discussions and I have raised points, in fact I have asked one or two of them (church leaders) to assist me in the dialogue."
Mr Wilchcombe said he intends to take his findings, after his meetings, to the Prime Minister and the Cabinet to show them how web shop gaming can work in the Bahamas.