By LAMECH JOHNSON
Tribune Staff Reporter
ljohnson@tribunemedia.net
ANY hopes of bail for former Bahamas Contractor's Association president Stephen Wrinkle pending his appeal over his conviction for stealing electricity were ended yesterday.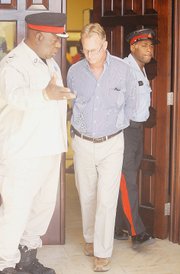 However, he was not the only applicant who was denied bail by Magistrate Derence Rolle-Davis yesterday morning.
Edena Farah, who was convicted and sentenced for her Straw Market scuffle with police officers two years ago, was also denied bail.
The magistrate reasoned that granted bail after sentencing defeated the purpose of their conviction and subsequent sentencing.
With the magistrate denying bail, it means that the 36-year-old tour guide and 61-year-old Eastern Road resident and president of Wrinkle's Construction and Development will have to continue their remaining 363 days behind bars until their cases are heard before the Court of Appeal where they can apply for bail.
Wrinkle was accused of dishonest consumption of electricity that was claimed to have been committed between February and March of 2011.
Prosecutors alleged that he stole power for the Bayparl Building on Parliament Street which he manages.
From his arraignment in June of 2011 to his conviction in January of this year, Wrinkle had maintained his innocence concerning the allegation.
Farah had faced six charges, each a count of disorderly behaviour, obscene language, resisting arrest, threats of death and two counts of assaulting a police officer, all alleged to have been committed on January 6, 2011.
It was claimed that she committed these acts at the Straw Market during a Segue Tour.
Farah was arraigned on those charges not long after she had filed a complaint to the Complaints and Corruptions unit about an incident with police that had left her injured and on crutches.
Evidence in the trial notes that the incident with police was started when Farah, while conducting her Segue Tours on a one-way road, was warned by officers, one of them a woman officer.
It was claimed that the scuffle and attack on the police was initiated by Farah.
However, Farah denied this. She said the scuffle started when someone she could not identity from their clothing, came up to her and pulled hard on her locks.
During their sentencing on Tuesday, their attorney Jomo Campbell had made mitigation pleas on their behalf and noted that his clients were not beyond reform and custodial sentences were not needed in their cases.
Wrinkle's punishment from the magistrate of seven years came first as he was sentenced to one year at Her Majesty's Prison and fined  $1,000. If the fine was not paid within a month's time, then Wrinkle would receive an additional three months time onto his sentence.
Concerning Farah, Magistrate Rolle-Davis said she would be imprisoned for six months for resisting arrest.
He said that she would serve six months for threatening a police officer with death and two consecutive six-months sentences for assaulting two police officers along with a $175 fine for disorderly behaviour and obscene language.
While Wrinkle appeared to receive the news nonchalantly, having already instructed Mr Campbell to appeal, Farah and her family wept in anguish and outrage.
Their "bail pending appeal" applications were dismissed and they must now wait until their matter is put on the Appeal Court calendar.