By AVA TURNQUEST
Tribune Staff Reporter
aturnquest@tribunemedia.net
THE Opposition has demanded an explanation about why MP Jerome Fitzgerald was serving as Acting Attorney General when a gun possession case was dropped.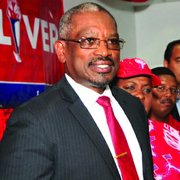 Free National Movement Leader Hubert Minnis said the Minister of State for Legal Affairs was the proper deputy when the Attorney General was out of the country.
He said the party's legal team would conduct an investigation into the case to determine if the withdrawal of charges could affect other gun possession cases.
He said: "We are very concerned about the matter, and will look into it much more thoroughly. Why didn't Damian Gomez, the Minister of State for Legal Affairs, sign it?
"We will look at the legal framework: our concern is that no precedent is being set. We don't want a continuation of this. We're going to look at the entire situation as a whole," he said.
Janice and George Hayes each faced a charge of possession of a firearm and possession of ammunition.
When they appeared in February 2010, represented by now Attorney General Allyson Maynard-Gibson, the couple pleaded not guilty to the charges and have continued to deny the allegations against them.
Last Friday, Deputy Chief Magistrate Bethell dismissed the case upon a written directive from the Attorney General's office.
However, she said the matter could be brought back at any time the Attorney General wished as the pair were not acquitted, only discharged.
It followed an initial nolle prosequi move was rejected by the deputy chief magistrate because the document was not dated and it was not clear who had signed it.
She asked the prosecutor to send the document back and adjourned the case to December 28.
After last week's hearing, Mr Fitzgerald said he withdrew the charges for reasons of national security.
He added: "In the absence of the Attorney General I acted as Attorney General. During the absence of Mrs Maynard-Gibson, I reviewed the file relating to Janice Hayes and George Hayes and satisfied myself that it was appropriate to discontinue the prosecution."