By SANCHESKA BROWN
Tribune Staff Reporter
sbrown@tribunemedia.net
JUST 10 days into the New Year and police say they are already concerned about the number of armed robberies in the capital.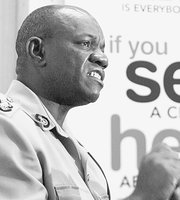 While police remained tight lipped on just how many armed robberies have occurred so far, Superintendent Stephen Dean said "enough to cause concern".
"The public said before that we have not informed them of these instances in the past so we are taking a more proactive approach this year. These armed robberies are sporadic but most of them have occurred in the Carmichael Road and south eastern areas," he said.
"In each incident, a weapon has been used and police are concerned that someone can be seriously injured. Police are appealing to members of the public to be aware of their surroundings and always on the alert. Additionally, members of the public are encouraged to report suspicious people, activities and vehicles. We want members of the public to know that they are aware of the seriousness of these crimes and are working diligently to protect and prevent future crimes of this nature."
Supt Dean is encouraging members of the public to work with police and report crimes to reduce and possibly eliminate crime.
Anyone with information of an armed robbery is asked to contact police at 911 or 919, 322-3333 or Crime Stoppers anonymously at 328-TIPS.
Last year, there were 1,099 armed robberies, an increase of 10 per cent from 2011, of that number 980 armed robberies occurred in New Providence.
Police also removed 480 weapons off the streets and 6,516 rounds of ammunition.