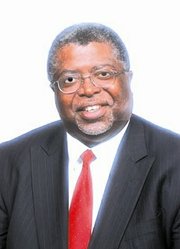 By NEIL HARTNELL
Tribune Business Editor
nhartnell@tribunemedia.net
The now-Chief Justice had concerns over the deal that saw City Markets' employee pension fund invest $3 million in a sale-and-leaseback deal over the now-defunct supermarket chain's assets, saying he was "troubled" that the plan involved 25 per cent of the fund's assets.
The January 2011 report by forensic accountant John Bain into the management of the Bahamas Supermarkets Retirement Trust, which was released to Tribune Business last night, alleges that the trustees failed to follow through on several recommendations made by Sir Michael Barnett, who was then a Graham, Thompson & Co attorney.
Sir Michael, who was acting as legal advisor to BSL Holdings, the then 78 per cent majority owner of Bahamas Supermarkets, City Markets' operating parent, advised that while the $3 million deal could be defended in the event of legal action, "it is not free from doubt".
In a May 13, 2008, letter to Anwer Sunderji, who was then a director of Bahamas Supermarkets, Sir Michael said the $3 million deal had resulted from "poor management" and the need to deal with a cash flow problem that had emerged at City Markets.
He urged the trustees to obtain independent investment advice, given that several of them were also City Markets and/or BSL Holdings directors, and therefore had a potential conflict of interest.
And Sir Michael also called for the deal to include a 'put' option, requiring City Markets to repurchase the assets involved after 12 months at a fixed price, in order to prevent the pension plan incurring a loss.
However, Mr Bain's report alleged that Sir Michael's recommendations were never adopted.
The report, which has been filed with the Supreme Court, sheds new light on how the employee pension fund was handled during the 2006-2010 period of BSL Holdings' ownership, the time when City Markets sustained consistent, heavy losses, from which it never recovered.
It was released last night by Mark Finlayson, principal of City Markets' last 78 per cent majority shareholder, Trans-Island Traders, the entity which acquired City Markets from BSL Holdings for $1.
The move appears designed to take some off the heat of Trans-Island Traders and the Finlayson family, as former City Markets staff continue to agitate for their full severance pay and benefits/pension entitlements to be paid out.
Mr Bain's report, assessing the rationale for the $3 million sale-and-leaseback, said a May 9, 2008, memorandum from then-City Markets managing director, Sunil Chatrani, said the pension fund then had $5.4 million in cas and liquid assets at the bank.
These funds were earning interest at rates between 3.5 per cent to 5.5 per cent. But, although the City Markets' employee pension fund then had more than $11.5 million in total assets, Mr Bain's report said its annual benefit payouts of $1.4 million were double the $700,000 investment income it received.
The report alleged that Mr Chatrani's position was that the $3 million sale-and-leaseback would enable the pension fund to earn higher returns, and he proposed to invest 22 per cent of its assets in the deal.
As a result, City Markets would sell to the pension fund fixtures, equipment and improvements at its new Cable Beach store.
"What Mr. Chatrani did not say in this memorandum was that the equipment in question was valued at approximately $1.8 million, and the other $1.3 million was leasehold improvements recently completed," Mr Bain alleged.
"The proposal was to use $3 million of the cash from the Trust. This was confirmed in an e-mail from Anwer Sunderji dated 13 May, 2008 addressed to Judy Higgs and Michael Barnett, where he confirmed: 'The assets in question are equipment (refrigerators, shelving, etc.) and improvements we have made to the new Cable Beach store and other assets that we have not identified."
And Mr Bain added: "Mr. Chatrani also did not say that BSL was not allowed any more loans from any source because of a covenant with Royal Bank of Canada.
"In the e-mail to Judy Higgs and Michael Barnett, Mr Sunderji wrote: 'The specific arrangement we have in mind is not a loan from the pension trust to BSL as the covenants we have from the lender (RBC) do not allow for further borrowings from any party."
Turning to Sir Michael's May 13, 2008, letter, Mr Bain's report quoted it as describing City Markets' need to overcome a cash flow issue.
"This cash flow problem arises as a result of poor management, and the present management of the Company (BSL) has been restructured and the company is satisfied that the changes implemented will result in increased profitability to the company," Sir Michael wrote.
Mr Bain's interpretation was: "Mr Barnett was, in fact, expressing his opinion that BSL may have been badly managed.
"Mr Barnett wrote that the decision can be successfully defended, but that 'it is not free from doubt'."
Sir Michael added that the trustees would have "a credible defence", though not be immune from any liability, if they sought independent investment advice.
And he wrote: "I am troubled by the fact that the proposed investment is in the sum of $2-2.5 million, and will represent 25 per cent of the value of the corpus of the Trust Fund. This may be inconsistent with the duty to diversify. Consideration should be given to reducing the amount of the investment.
"It would be prudent if the purchase agreement contained a clause which would require the Company to repurchase the asset at the end of 12 months at a specified price, which insulates the Plan from an unwarranted loss."
However, Mr Bain alleged in his report that Sir Michaels's advice was "apparently ignored". He claimed that Mr Chatrani had written to the trustees, prior to Sir Michael's letter, stating that legal advice had been sought and the deal could go ahead.
Alleging that this was incorrect, Mr Bain said other trustees "reluctantly" agreed to the $3 million deal.
His report alleged: " Mr J. Barrie Farrington wrote: 'I am a trustee on three pension funds, and the one commandment that is instilled constantly is 'thou shalt (sic) not violate one's fiduciary responsibility, so from an abundance of caution I make the request.' But he was prepared to accept the arrangement.
"Another Trustee, Gail Saunders wrote on 9 May, 2008, (before the legal opinion by Michael Barnett on 13 May, 2008: "'I am concerned about using pension funds, but provided they will be protected for the beneficiaries I agree with the plan.'
"It was noted on the minutes dated 25 June, 2008, that Messrs Sands and Butler abstained from voting due to a conflict of interest. The minutes did not state what the conflict of interest was, but both men were Trustees for the Trust."
In a statement last night, Mr Finlayson, wearing his trustee hat, reiterated his earlier statements that the City Markets employee pension fund was solvent, and that all sums due to beneficiaries had been paid to-date.
He added: "The trust's source of income remains an iron clad, long-term lease which the shareholders of the tenant company remain obligated to, along with other investments deeded in trust to the Trust."
Suggesting he was taking legal advice on possible actions against the former trustees from BSL Holdings days, and their advisers, Mr Finlayson also hit out at Whanslaw Turnquest, who is leading the former City Markets workers in their fight for severance pay and pension benefits.
He claimed Mr Turnquest was trying to force the Government to take over these obligations and pay them out from taxpayer monies, as had happened with the Royal Oasis.
"The severance issues are a separate matter for BSL, but in the case of trust, it has met all of its obligations to date, and it has sufficient commitments to keep it solvent for the next 53 years<" Mr Finlayson said.
"Any sale of the trust building would only be to relieve the tenant of its long-term obligation, and would make it possible for the trustees to pay out the beneficiaries ahead of its annuity obligations."