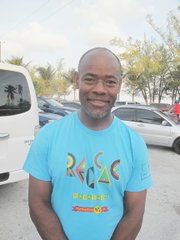 AS the countdown continues to Marathon Bahamas 2013, Bahamian businessman and distance runner Glen Bain says he wants to see the Marathon Bahamas title stay at home this year. 
And to encourage Bahamian runners in the full marathon category to run their best time ever, he is offering a $1,000 prize to the top native Bahamian who crosses the finish line.
Bain says he is expecting a showdown between Sidney Collie and Delroy Booth. Booth was the winner of the 2010 Marathon Bahamas with a winning time of two hours and 34 minutes. Collie finished second in Marathon Bahamas 2012 with a time of 2.47.40.
Bain is also a full marathoner and has participated in 15 overseas marathons, including Hartford, Berlin, Quebec, West Palm Beach and Miami. He has participated in Marathon Bahamas since its inception and will be running the full marathon on Sunday.
This incentive comes as Sidney Collie says that he is looking to beat Bryan Huberty's 2012 time of 2.42.53, and win this year's Marathon Bahamas.  
Collie began his marathon running career in 2005. His first international race was the Jacksonville Bank Marathon and since then he has completed numerous international marathons and half marathons including, 2011 A1A Marathon (where he earned a 4th place finish), West Palm Beach Marathon, Boston, and ING New York.
Bain and Collie are members of the Bahamas Roadmasters running club.