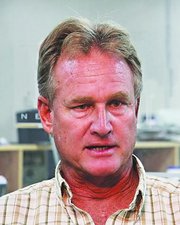 By NEIL HARTNELL
Tribune Business Editor
nhartnell@tribunemedia.net
A Bahamian contractor yesterday said he had used an alternative construction method to build $5-$6 million worth of homes in the past two years, reducing client costs by 20-30 per cent through "the way of the future".
Stephen Wrinkle, president of Wrinkle Development Company, said the firm's Island Homes affiliate had constructed about 12-15 Family Island homes since 2010 using pre-fabricated, modular buildings that were then assembled on-site.
Suggesting that this method had reduced construction times by around 40 per cent, Mr Wrinkle told Tribune Business: "As an industry we have to look at alternative construction methods for building homes.
"The traditional methods are too expensive for an average Bahamian to own a home. The bricks and mortar are too expensive with the way the economy is.
"Conventional methods are extremely time consuming. Ours is probably 20-30 per cent cheaper, and 40 per cent faster. The big savings is in the time. Where a normal homes takes 12-18 months, our homes take four-six months or quicker. Depending on what it is and the logistics of where it is in the islands."
Mr Wrinkle said the biggest response Island Homes had received was from the second home market - foreigners and Bahamians living in Nassau, but who also owned land in the Family Islands.
"We've been really focusing on it for the past two years, and have done about 12-15 homes," Mr Wrinkle, a former Bahamas Contractors Association (BCA) president, said of Island Homes.
"It's a mix. We've done foreign and Bahamian. We're finding Nassauvians who own land in the Family Islands are a major client pool."
Apart from being able to meet these clients in Nassau, Mr Wrinkle said they were also able to see the product being put together before it was shipped to the Family Islands.
Construction prices for Island Homes' products had ranged from "small cottages under $100,000" all the way up to $1 million, the former BCA president added, with typical 'middle market' Family Island vacation homes priced between $150,000-$250,000.
"Most people wanting a vacation home want something that's easy to manage, that they can put in a rental pool, and they do not have to sell their house in Nassau to do it," Mr Wrinkle told Tribune Business.
"The price seems to be working, and we are developing new products all the time. This is a very popular method of construction in the US, but we haven't embraced it."
Mindful of the frequency with which hurricanes visited the Bahamas, Mr Wrinkle said all Island Homes' products were certified by structural engineers and were "first class".
"We know how to build homes in the islands," he told Tribune Business. "We have another seven in the planning stages now, and are looking forward to a good year working with it.
"We have to look at alternative methods. As we progress forward, I think it's the way of the future. There's not much work in Nassau right now, so we're content to spend our time in the Family Islands."
Mr Wrinkle added that the BCA had begun to offer certification training programmes for building contractors via the $225,000 Inter-American Development Bank (IDB) initiative to strengthen the industry.
He said that "for the first time", accredited certifications were being offered for Bahamian contractors by the industry and the Government, as the qualifications would be recognised by the Ministry of Works.
With the IDB project some 18 months in, Mr Wrinkle told Tribune Business that the BCA and industry were "beginning to see the fruits of it".
He added that post-Christmas, the IDB had released the second tranche of grant funding for the project, completing the balance.
To do this, the BCA had passed all the IDB's requirements, something Mr Wrinkle said suggested the bank was "very pleased" with its performance.