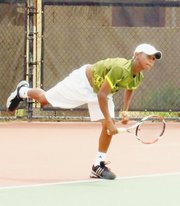 By RENALDO DORSETT
Sports Reporter
rdorsett@tribunemedia.net
THE Middle Eastern portion of the International Tennis Federation's circuit continues for young tennis ace Justin Roberts.
Following a hard fought singles loss to No.1 seed Russian Roman Nashatrykin, who has an ITF ranking of 178, Roberts looks to continue his doubles success this week at the PSS ITF Junior Championships in Abu Dhabi.

Roberts and his partner Bart Van Liijsen of the Netherlands advanced to the quarterfinals of doubles on Tuesday by defeating the fourth seeded Kareem Allaf of Syria and Aayush
Mintri of India in a hard fought match 5-7, 6-2, 10-5.
On Tuesday, the duo continued their doubles wins by defeating Oscar Janglin of Sweden and Sam Rice of Great Britain 6-3, 5-7, 10-7 to advance to the semifinals for the second consecutive week of the G4 ITF Abu Dhabi events.
In the main draw, Roberts lost in the opening round to Roman Nashatrkin of Russia, 6-4, 6-1.
Last week, Roberts and Van Leijsen lost in the semifinals of the 12th ITF Abu Dhabi Junior Championships, 6-3, 2-6, 8-10 loss to the No.1 seeds Alexander Braun of Germany and Alexandros-Georgios Vakouftsis of Greece.
In the opening round, they defeated Addulla Agli and Fahad Al Janahi of United Arab Emirates 6-1, 6-0 to advance to the quarterfinals.
After winning his opening main draw singles match over Russian player Denis Borisnov 6-1, 1-6, 6-4, he fell to second seeded Shota Meparidze of Georgia 6-4, 6-4.
In the qualification rounds, Roberts won three qualification matches to advance to the main draw.
In the first round, he defeated Norwegian player Christian Linge 6-1, 6-0 and in the second and third rounds he defeated Russian Lefty Robert Ziganshin 6-4 7-6 (4) and Efekan Bulbul of Turkey 4-6, 6-3, 6-2 respectively to advance to the main draw.
The 16-year-old Roberts is on tour under coach Michel Lentjes and his team at the Meppel, Netherlands Tennis Center of Excellence Academy (TCE).
In addition to playing in the tournament, the TCE players were able to participate in the establishment of an ultra modern TCE academy in Abu Dhabi, expanding its presence in Europe, the Middle East and US. The Abu Dhabi facility features modern courts, fitness and educational facilities and exceptional coaches.
Roberts currently has an ITF ranking of 1,104, updated last week from 1,730 following Abu Dhabi.