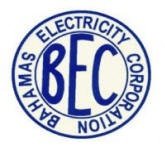 By NATARIO McKENZIE
Tribune Business Reporter
nmckenzie@tribunemedia.net
The BAHAMAS Electricity Corporation (BEC) prefers net billing to net metering, its general manager yesterday pledging that the utility would work with the Government to implement the legislative reforms necessry to facilitate renewable energy growth.
Kevin Basden, who attended the Platts 13th annual Caribbean Energy Conference, told Tribune Business that given the high price of crude oil, BEC would continue to pursue renewable emnergy and, where practical, allow them to connect to its grid.
"This would not only be on a utility scale, but also on a residential scale, so we would continue to work with government to get some legislative changes in place, and a policy framework in place to allow even residential customers to connect to the grid - hopefully under a net billing system, whereby it would be some benefit to the customers and Corporation," said Mr Basden.
"Net billing is our preference as compared to net metering. We think net billing is the way to go in our situation."
Net billing allows consumers to sell unused energy to the public electricity grid, generated from devices that harness renewable energy.
Mr Basden explained: "If it's net metering, we would buy back from the customer at the same cost we sell. With net billing, we would buy back at a lower cost.
"If you think of a customer who is connected to the grid, if we were to buy back at the same price that we sell, they would not be paying anything in terms of the transmission, distribution and administrative side etc.
"Our view is that because the main benefit to the organisation would be fuel displacement cost, that is the approach we should look at. That way it would not be a situation where those who can afford to put in renewables would end up with a lower rate than those who can't afford to."