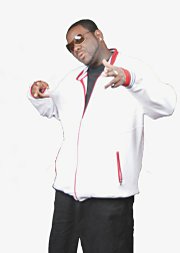 By ALESHA CADET
Tribune Features Reporter
acadet@tribunemedia.net
ONE of the newest members of the 100 JAMZ team hails from Grand Bahama, with a talent that has the music world talking.
As a full time DJ, Antiko Bowleg, known to many by his stage name Tiko T Destiny has been involved in music since the age of fourteen. He has had many relatives who were DJs, and knew all along it was inevitable for him to become one.
"I added the "T" after Tiko because it was easy to rhyme with, during those lunch time sessions in school when we used to beat on the desks and freestyle. The Destiny was added after teaming up with older cousins who already had a sound system called Destiny Sound," said Tiko T.
It is the love for the art form and the creativity that it requires that keeps Tiko T pushing forward.
"I would have to say the first time I started talking on the mic, telling the crowd to "put ya hands up" and watching everyone's hands go up in the air instantaneously. That was awesome," said Tiko T, recalling his most memorable experience.
Most people ask, how does Tiko T represent for his Grand Bahama natives here in Nassau? He said: "I try my best to represent wherever I go and when you have a lot of Freeport people living in Nassau, I would be that familiar person who they feel they know from home. They can listen to their radios now and hear that name they are familiar with. Everyone wants some sort of representation and I feel good to know that I can be that."
Officially added to the JAMZ team in September 2012, Tiko T said it was a great feeling to be apart of the team.
"We're not talking about just any old radio station; we're talking about the most listened radio station in our country, and being the first Grand Bahamian DJ to be added to the team is a big thing within itself. Every DJ in the Bahamas wants to be able to play on 100 JAMZ, if they say otherwise, they are lying," said Tiko T.
He said the biggest event he can recall playing for, in terms of crowd size, would be the Stop the Violence concert weekend, a few years ago.
"I can remember stepping on stage and just seeing a sea of people. The experience was great because that was around the time I was getting over being afraid to talk on the mic, so it was a strengthening situation for me also," said the DJ.
For Tiko T, his deejaying experiences stretch all the way to Miami, West Palm Beach, New York and Washington DC. He said he also played in Turks and Caicos, and has already had offers to play in a few international cities throughout the year.
The life of a DJ may be hectic, but Tiko T said he finds time to spend at home with his family. He said he also enjoys researching things that grab his interest and attention.
"I would honestly like to see more people come out to actually have a good time and not just to watch other people or be on their phones all night you know. Just come out and appreciate this awesome gift we have called music. Let's get back to when a party was a party," said Tiko T.