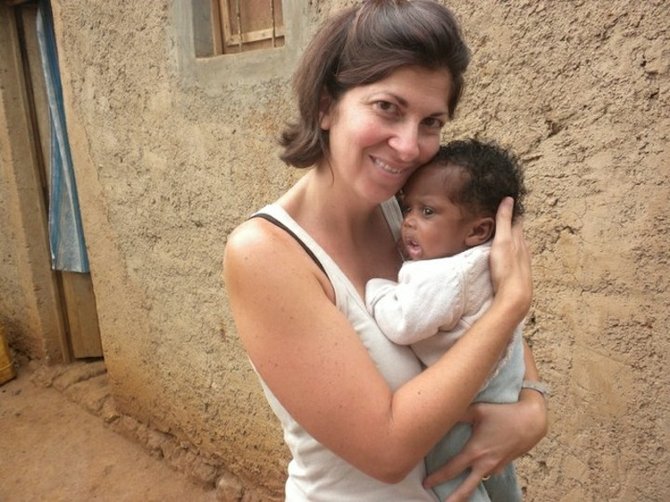 By ALESHA CADET
Tribune Features Reporter
acadet@tribunemedia.net
LIFE born out of death, is at the root of the formation of the Meah Foundation.
Bahamian native and Meah Foundation Founder, Tina Klonaris-Robinson, shared with Tribune Woman her personal experience of child loss and the journey of healing that followed.
Based in Nassau, the foundation raises money to enable dynamic individuals and speakers to make their stories heard, to fund creative writing workshops that empower young people to tell their own stories, and to fund exchange programmes which encourage people to visit communities outside their countries so that stories may be shared across national and international borders.
"When people think of the Meah Foundation, I want them to know my story, and the story of Meah. I want them to know that while death came through me, new life was born in me. My daughter (Meah) died within me, I was 39 weeks pregnant and we lost her in the labour process," said Tina.
She said: "My uterus tore from top to bottom in the front and in the back. While I was close to bleeding to death, my daughter struggled to breath and in the end, she did not make it. I held her in my arms and she was perfect, but she could not stay. I did not think that
I could survive my loss but my daughter came into this life to remind me that I had everything I needed within me to find healing and to help others to find healing.
Tina said through the power of other people's stories, she found her own healing, which led her to sharing her very own story with individuals everywhere.
"When we listen to the stories of others, we find strength, courage and hope. We are inspired and we are reminded of the power of faith.
We learn to find forgiveness and to live life with new meaning and purpose. So when people think of the Meah Foundation, I hope that they come to associate it with healing, love, compassion, hope, meaning and purpose. God created us all to do and be in the lives of others," said Tina.
Later, after the loss of Meah, Tina would travel to Orlando to the 'I Can Do It' conference for a workshop on forgiveness by Immaculee Ilibagiza. Tina said Immaculee had lost almost all of her family members during the 1994 genocide in Rwanda.
"Over one million people died in a period of three months. Immaculee survived by hiding in a tiny bathroom with seven other women.
When the genocide was finally over and it was safe for her to come out of hiding, she learned the brutal reality that almost everyone she knew and loved had been slaughtered to death. What amazed me most about Immaculee was her ability to find compassion for the very people who killed her family and find forgiveness in the midst of her pain," said Tina.
She said hearing Immaculee's story changed her, and it gave her the strength and motivation to move forward. Tina travelled to Rwanda with Immaculee in June of 2007 and then again in June of 2008 and 2011.
"My journey to create this foundation began with my travels to Rwanda. Three trips that have shaped the way I see, feel and experience this life. The people I shared stories with and whose stories I heard changed the course of my life and helped me to find the work I know I am supposed to do in this life. I felt called to Rwanda, I listened to that call and answered it. That call has enabled me to create the vision I have for doing good in my own community as well as abroad," said Tina.
She said: "If I never helped people in Rwanda, I could never have learned the lessons of reconciliation and forgiveness, of gratitude, of kindness, compassion, joy, faith and hope. So for anyone who thinks that my work in other countries is not important when we have so many problems in our own country, I say that I could not have even begun to help anyone here without the life lessons I learned from helping people abroad."
Tina said The Meah Foundation will begin to offer group gatherings where mothers and fathers of child loss have a place to share and express themselves. She said they will also create spaces for people to gather for all sorts of different life experiences.
"We are talking about creating boys and girls clubs all over Nassau where children can play and also have assistance with school work and study in a safe and inspirational environment," said Tina.