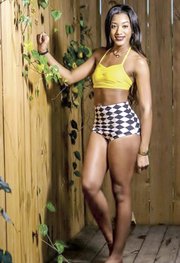 By JEFFARAH GIBSON
Tribune Features Writer
jgibson@tribunemedia.net
AFTER several hits and misses, 19-year-old Bahamian designer Kristen Cartwright has reached a major milestone with the launch of her swimwear line.
Dklypse swimwear was debuted during a launch event held on Sunday. The line features chic trendy pieces that flatter the slender, busty, flat-chested, or the curvy-all-over woman.  
The swim pieces in the collection also reflect current fashion trends. High-waisted swim bottoms and patterned fabrics are dominant in the line.  Currently the collection only caters to women.
Kristen and her partner Dayvonne Fox, who mainly creates earrings for the brand, hopes to expand the line to include swim attire for men. Next month, she will host another fashion show, which will serve as a debut for children's swim suits.
While some designers opt to create clothing for smaller women before launching their plus size pieces, Kristen said it was important to include larger sizes in her first collection because Bahamian women are generally curvy.
"We have something for full-figured women because most Bahamian women are shapely. They may either be small on the top and wide on the bottom. Some of them may be small all over but have a big butt. This is why before we make the custom swim suits we do fittings. But I thought it was important because Bahamian women have a lot of curves," Kristen told Tribune Woman.
The idea to launch a summer bathing suit line was conceived several months ago. It started out as a time consuming effort but later turned into a labour of love.
Even though Kristen learnt how to sew and design clothing by watching an uncle who is a fashion designer, as well as other family members who made clothes regularly, she went through a lot of trial and error before things came together perfectly for the line.
"It took a lot of experimentation," she said.
As a result the pieces in the collection make bold fashion statements.
"When I come up with an idea I draw it out, and then I think of what fabric can be paired nicely with it. If a customer sees something they like we can draw it our for them get their measurements and create the piece for them.
"Making swimwear is not always easy because it is very time consuming. You have to make sure everything is right. You have to make sure the swim suit fits the customers perfectly. Some people would think it is easy, because swim suits are smaller and clothes are bigger, but it is very time consuming. It is fun to make because I like to do it," she said.  
Kristen sees it as a privilege to be able to do what she loves and get positive feedback from others.
"I went on a photo shoot three weeks ago and we had to wear different outfits. The last thing we had to wear was a swim suit. I came in one of my swim suits because I figured it was an opportunity to show off one of my pieces. Everyone was like 'where did you get that swim suit bottom' and I told them I made it. They said 'no you order swim suits from China and you sell them'. I told them I made it. I told them it is Bahamian made. It is from one of your people," she said.  
Although Kristen is currently pursuing a degree in preschool education at the College of the Bahamas, she wants to focus on developing her skills and her the swimwear line.
"I think in this time in my life I want to focus on the swim suits and work on my fashion degree. Afterwards I will finish my preschool education. I really love little children and I love creating swim suits so I feel like I can do both at the same time, and I want to make sure everything is in order.
"It makes me feel good that I can make people happy with though I am doing something good. Especially at my age, I think it is something positive that people can talk about. Instead of talking about all of the bad things other young people are doing. It is just something positive and people can say this young lady is doing something good. Parents can also tell their children 'see she is doing something positive with her life why don't you go out there be creative and do the same thing or do something that inspires you'. I feel like I can be an inspiration to anybody and inspire them to just go out there and start something from an idea," she said.