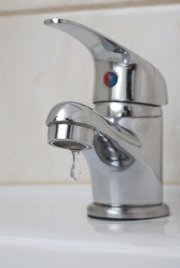 IT IS STILL too early to expect tangible results from the $81 million contract with an Israeli company to reduce leakage from the island's water supply network, the Water and Sewerage Corporation says.
The corporation issued a statement insisting the huge problem of water loss cannot be fixed "overnight" – and accusing a Tribune story of misleading the public on the issue.
WSC said it "takes exception" to the suggestion in the article that officials could not explain the recent substantial increase in the rate of water loss, which has led to water rationing across New Providence.
"At no point was it expressed that WSC is 'unable to explain' the increased water losses," the statement said, "and in fact the article itself goes on to identify sources of losses discussed during the interview.
"The article also implies that despite a year and a half having passed since the award of a contract to reduce water losses, losses continue to increase.
"The contract signed in 2012 with Miya will reduce water losses from nearly 6.5 million gallons per day to less than 2.5 million gallons per day over five years (the reduction phase).
"The first ten months of the project were dedicated to performing the necessary studies and analysis, as has been reported numerous times in the press through statements by WSC, and that the necessary controls and infrastructure work were set to start January of this year," it said.
The statement said water losses have been increasing steadily over several years, and it is "unrealistic to believe that the level of leakage which has taken decades to reach will immediately be controlled and reduced overnight".
It said consecutive governments have been supportive of the efforts and challenges that the corporation faces.
"The improvements that are being made are required in the national interest and targeted to national development," the statement said.
"The conservation measures presently in place are not targeted to any specific area or customer group but rather are island-wide to control water into supply with the view of ensuring our strategic storage levels are maintained during the hurricane season.
"Also note that WSC is not turning the water supply off and anyone experiencing no water should call WSC.
"As always we issue regular announcements regarding our activities, and urge our customers to keep informed."
• See Insight today for more.