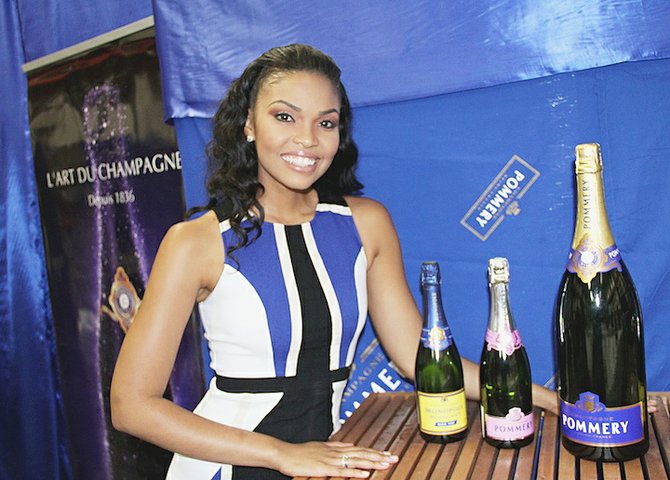 CONNOISSEURS picked up consumer tips and indulged in a selection of Pommery champagnes at Liquid Courage's tasting showcase – "A Flight of Bubbles" – last week.
Mark Roberts, proprietor, and president of FYP Builders Mall, announced both companies' decision to sponsor Shanae Strachan in the upcoming Miss Universe Bahamas pageant.
Patrons also learned about the history and process of champagne, and how to pair Pommery brands Brut NV, Vranken Blanc de Blanc, and Heidsieck Monopole.
As for Ms Strachan, Mr Roberts said he was confident in the 21-year-old aspiring entrepreneur's ability to win the 2013 Miss Universe title.
He said the Builders Mall team was "blown away" by her humble spirit and dedication when she pitched the idea of a partnership.
"When I came across Builders Mall," she said, "I observed their deep commitment to the community and how they support Junkanoo and development in The Bahamas. There is no other company in the Bahamas as dedicated to youth and community development."
According to Ms Strachan, who was crowned Miss Teen Bahamas and Miss Teen Continents of The World in 2007, the sponsorship is well matched given her background in the hotel management industry, and future plans to become a sommelier — a procurer of wines.
"I hope," said Ms Strachan, "to win the Miss Universe Bahamas pageant and make history for the Bahamas at Miss Universe by bringing home the crown."
"My mission for the next year is to raise $100,000 for the crisis centre family outreach outer island initiative awareness programme," she added.
For more information on future product showcases, visit Liquid Courage on FaceBook.